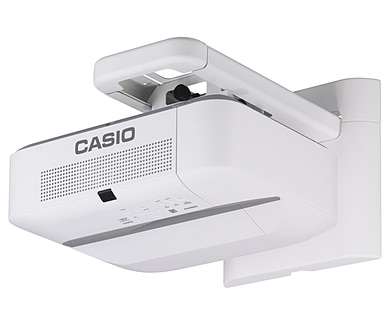 WXGA Real 3100 lumens
This ultra short-throw projector that fits in anywhere operates in environments across the range from classrooms to conference halls.
A separately available wall mount solves the problem of installation incramped spaces. A comfortable projection environment is assured.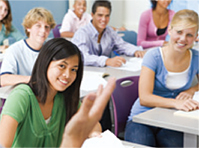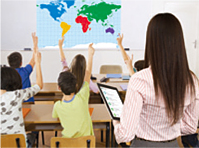 4 Key Qualities Realized by CASIO's Laser & LED Hybrid Light Source
Laser & LED Hybrid Light Source supporting high-brightness projection without mercury ECOLOGY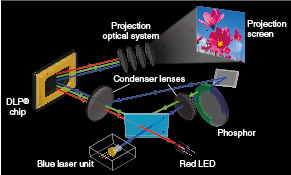 CASIO has applied its unique new Laser & LED Hybrid Light Source to achieve breakthrough development of a mercury-free high-brightness projector. Adopting a new semiconductor-based light source system combining a blue laser, phosphor and a red LED, we have achieved both high-brightness performance enabling projection in well-lit rooms and environmental friendliness with mercury eliminated from the light source.
Revolutionary new light source technology
CASIO developed a new semiconductor light source technology combining a red LED, phosphor and a blue laser. This source achieves high luminance safely by employing a phosphor device to modify the wavelengths and phases of blue laser light.
Approximately 20,000-hour long-life light source with less brightness degradation ECONOMY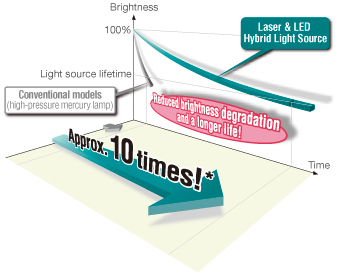 * Compared with conventional CASIO models,
as of February 2011. Source: CASIO
The light source's life of approximately 20,000 hours far outshines that of conventional projectors that require mercury lamp replacement. It saves maintenance labor and contributes to a significant reduction in operating costs. Since brightness degradation is more gradual than with mercury lamps, moreover, it maintains vivid image quality through long-term use.
Startup as quick as 5-seconds * Fast ON & OFF switching for convenient usability USABILITY
Projection at maximum brightness is achieved in as few as five seconds, and the time from startup to screen display is shortened dramatically, facilitating more effective use of limited time. No cooling down is necessary, moreover, when the power is turned OFF. Users can complete the process from setting up to packing up smartly and speedily.

Enhanced beauty and realism A further leap forward in
color reproduction VISIBILITY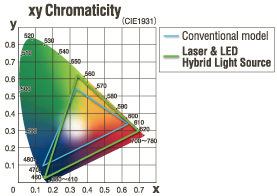 The dramatic improvement in color purity achieved by the new light source has significantly improved color reproduction. Not only are the colors clearer and more beautiful, but the projected images also look brighter due to the visual effects of the high-purity colors. Users benefit from clearer, more powerful images than conventional projectors can achieve.
Large-screen projection from ultra-short distances
The remarkable short-focus lens achieves 60-inch screen-size projection from a distance of 13cm*. This shorter throw not only prevents background reflections from appearing on the screen, but it also keeps light from the light source from shining in viewers' eyes for more comfortable viewing.
* See page 9 for detailed throw distances.

Conventional projector


60-inch screen

13cm
Internal memory for PC-free presentations
Presentation materials stored in the (2GB) internal memory can be projected without using a PC. Operators can project still or moving images as well as files in PDF (and other) formats without conversion. Operation can be conducted using the bundled remote controller or a smartphone.
Networking for enhanced classroom teaching convenience (C-Assist)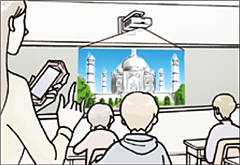 When a wireless network is constructed with dedicated software C-Assist, image projection can be controlled by smartphone or tablet from anywhere in the classroom. Teachers enjoy a wider choice of teaching styles.

♦ Wireless presentation
♦ Wireless camera
♦ Browser projection
♦ Simple PC remote control
Check OS versions compatible with the app on Google Play or the App Store.
* App functions and operating environments may be altered without prior notice.
* The app may not function on some smart device.
* Google Play and the Google Play logo are trademarks of Google LLC.
* Apple and the Apple logo are trademarks of Apple Inc., registered in the U.S. and other countries. App Store is a service mark of Apple Inc., registered in the U.S. and other countries.
Dust resistance ensuring stable long-term operation
The main projector unit employs an original dust-resistant structure that effectively prevents the incursion of dust into the optical engine section. A dust-proof shield is installed to guard internal parts, and a filter in the air intake vent adds further dust resistance. These precautions reduce labor requirements for periodic cleaning as well as degradation of projection brightness due to dust, thus enabling long-term stable operation in dusty environments such as classrooms.
Interfaces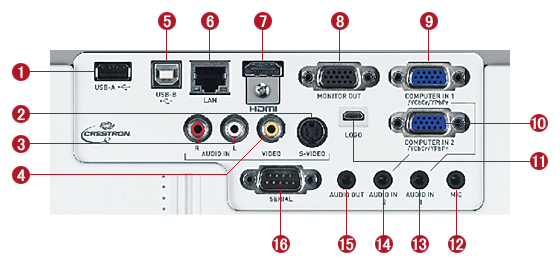 USB terminal (Type A)

S-Video input terminal

Audio input terminal (RCA)

Video input terminal (RCA)

USB terminal (Type B)

Wired LAN terminal

HDMI terminal

RGB output terminal

Computer terminal 1

Computer terminal 2

USB terminal (Micro-B)

Microphone input terminal

Audio input terminal 1

Audio input terminal 2

Audio output terminal

Control terminal (RS-232C)
Linkage to CASIO Digital Equipment

[Digital cameras]
EXILIM
Project your photos and videos directly.
[Direct projector connection capability]
Graphing Calculator
Connect the calculator to a data projector and project the calculator screen.
For more information, please check here .