Educational Solutions Features
Classes can be conducted smoothly and freely, with students deepening their understanding through active interaction among all the class members.
---
One Click Connection
Just clicking on the One Click Connection ("OCC" hereinafter) icon set up for each classroom creates a wireless connection with the projector and initiates projection. The time and effort spent on activities such as establishing cable connections, switching inputs and making wireless settings are significantly reduced, so that classes can begin right away.
The C-Connection network projection app (Windows or Mac) required.
---
Connection Setting on Browser
Creation of the OCC file and the projector connection settings can be conducted on the IT manager's web browser. This spares IT managers the trouble of constructing a network environment.
The C-Connection network projection app must be installed on every PC beforehand.
---
Moderator Function
This function makes it possible to manage the projection operations of students' PCs collectively by smartphone or tablet. The teacher can select any student's PC from anywhere in the classroom and project the relevant contents onto the screen immediately. This is a practical way of enhancing teaching efficiency and increasing student participation through activities such as presentation of assignments. A maximum of 40 devices can be connected simultaneously including teacher's devices.
The number of connectable devices depends on the user's network environment.
The C-Connection network projection app (Windows /Mac /Chrome), or MirrorOp Presenter(Android /iOS) required.
For Presentation
When students click the OCC icon to indicate completion of a classroom assignment, their user name is displayed in a list on the teacher's smart device screen. This makes it easy for the teacher to tell which students have completed the assignment and to select students to present their solutions while still circulating the room.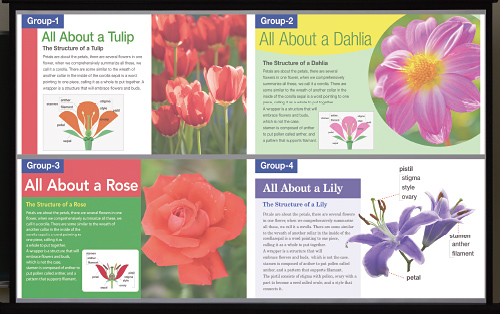 The PC screens of up to four students can be projected simultaneously. This approach can be used to initiate vibrant discussions in which students compare the solutions offered by various class members, deepen their understanding of the issues, and discuss multiple opinions and assertions presented by their classmates.
---
PC/Projector Remote
Remote control of the PC and projector by smartphone or tablet enables teachers to project the screens they want to show from anywhere in the classroom. This enables them to coordinate their lessons directly with students' input and needs.
PC Remote
Teachers can switch among teaching materials and turn pages while walking around the classroom, without returning to the podium each time.
Installation of the C-Connection network projection app in the PC and the MirrorOp Receiver app in the smartphone or tablet is required.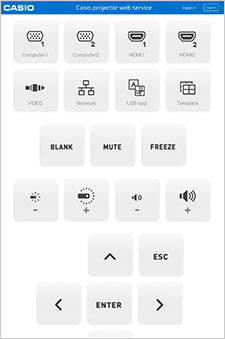 When a document camera, DVD player or other device is connected to the projector, remote switching among input terminals can be conducted as appropriate.
---
Auto Projection OFF
Pressing the stop button on the C-Connection network projection app when the class ends removes the projected image from the screen while maintaining the network connection status. One Click Connection is all it takes to start the next class immediately. Because there is no need to turn the power ON/OFF before and after every class, preparation and tidying up are trouble free.
The C-Connection network projection app (Windows /Mac /Chrome), or MirrorOp Presenter(Android /iOS) required when using wireless connection.
A new projection session can be started using the same signal within 20 minutes of Auto Projection OFF.
Wired use is also possible by plugging in and unplugging a cable.
Auto Power OFF After 20 Minutes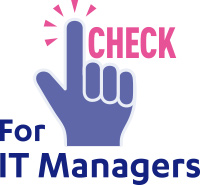 After 20 minutes in the Auto Projection OFF mode, the projector's main power supply is turned off automatically. This prevents it from being left on accidentally, and reduces the pressure on IT managers to confirm the projector status after school.
---
PC/Smart Device Projection Applications
OS

App

Download link

Windows

C-Connection

Mac

C-Connection

Chromebook

C-Connection

Android

MirrorOp Presenter

MirrorOp Receiver

iOS

MirrorOp Presenter

MirrorOp Receiver
---
Auto Input Search
When the power is turned ON after the cable is connected, the projector searches for the input signal and initiates projection automatically.
---
Countdown Timer
The ability to display a large timer in the center of the screen comes in handy for various classroom activities, such as informing students of assignment and examination time limits.
---
Template
Nine built-in templates comprising frequently used borders and grids are available for use in class. Original images can also be registered.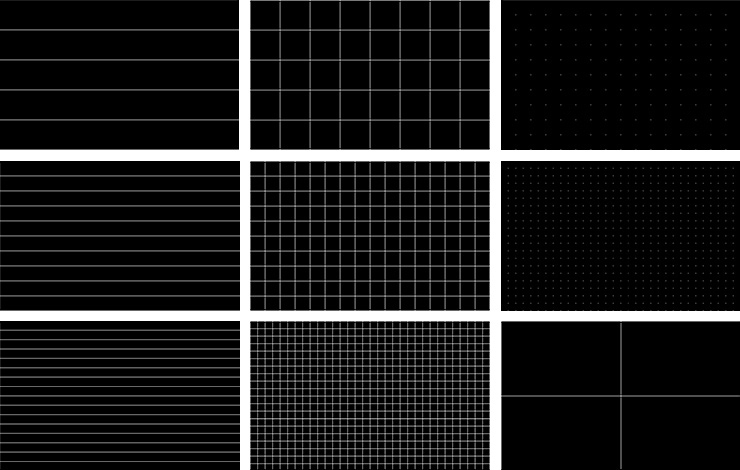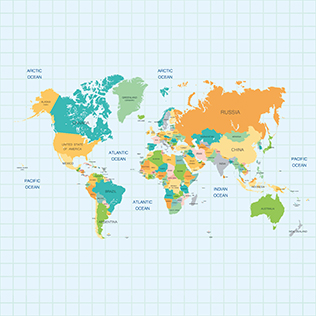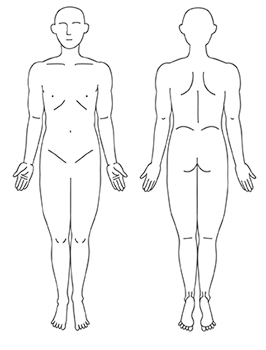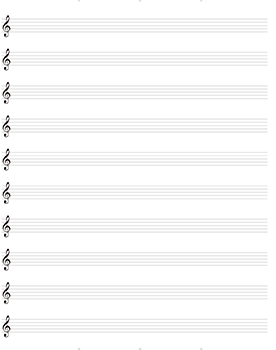 ---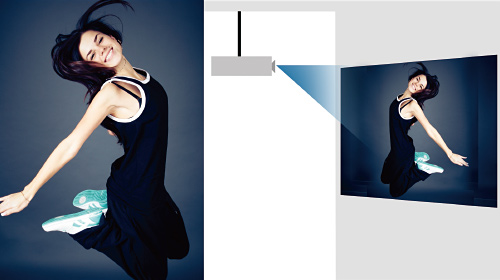 Images can be rotated horizontally, a useful capability for studying movement and form.
---
A separately available wall mount solves the problem of installation incramped spaces. A comfortable projection environment is assured.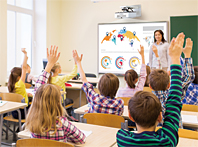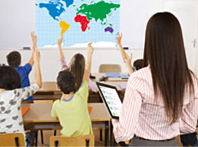 Large-screen projection from wall mount to screen
This short-throw projector's short-focus lens is capable of projecting a 60-inch screen image from a distance of just 13 cm.
Its brightness of 3100 lumens enables it to project clear images in fully lighted rooms.
The short projection distance eliminates the possibility of either shadows or dazzlingly bright images.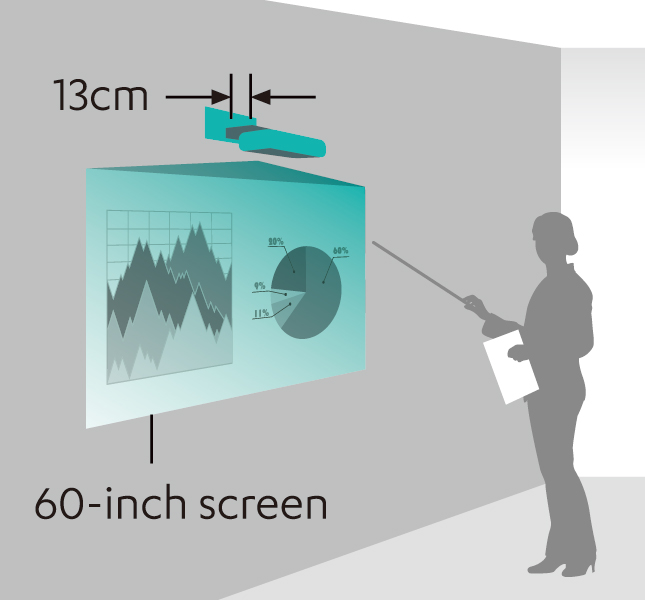 ---
Long service life, minimal maintenance and greater energy efficiency for significantly reduced TCO (total cost of ownership)
The long-life light source provides approximately 20,000 hours of illumination.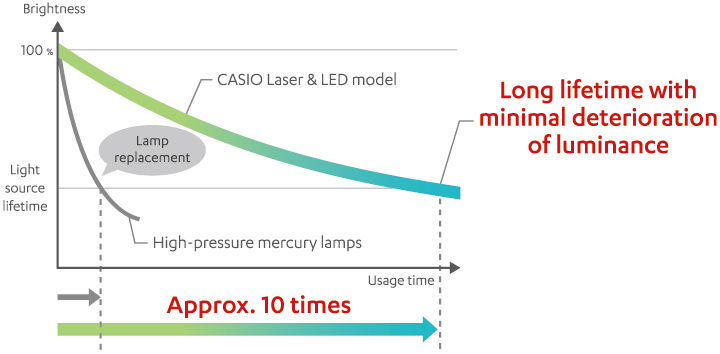 Comparison with a high-pressure mercury lamp model (earlier CASIO product). As of December 2016, CASIO investigation.
---
Dust-resistant design suited for installation
CASIO's unique three-block shielded structure makes filter replacement unnecessary * for approximately 20,000 hours, moreover, thus reducing maintenance requirements even further.
Evaluations of dust-resistance performance are based on data calculated from proprietary CASIO acceleration testing conducted with reference to the JIS D 0207 dust assessment test (in an environment with a dust concentration of 0.03mg/m3 according to the powder test established under JIS 8901). Evaluation values are the closest possible approximations, but they vary with the environment (temperature, humidity, dust concentration, etc.) and conditions (ceiling-hung or other facility installation, cleaning frequency, etc.) employed for the tests.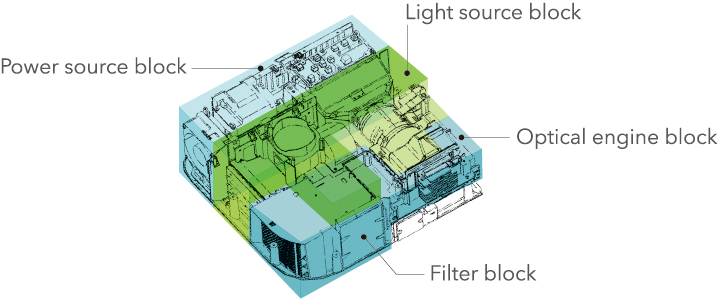 ---
REDUCED ENERGY REQUIREMENT
Adoption of an LED-based light source has decreased power consumption dramatically compared to high-pressure mercury lamps.
[ Comparison of total cost over 5 years ]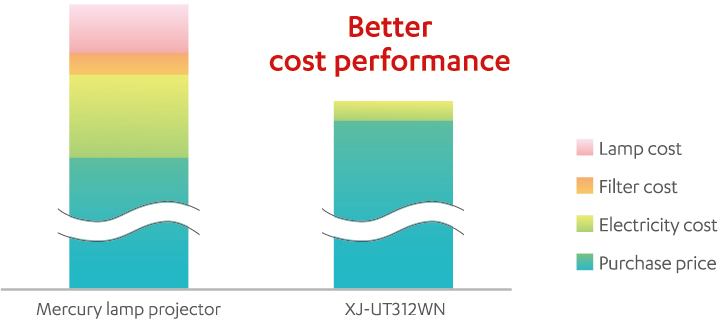 With use for 5 hours/day, 200 days/year. Light Output 7 selected.
---
Laser & LED Light Source Technology
It began with CASIO's original development of an optical engine combining a high-luminance blue laser with a red LED. The high projection efficiency realized through outstanding energy-saving technologies and optical block optimization led to achievement of high brightness projection and lower energy consumption as compared with mercury lamp systems and other solid-state light sources. Product downsizing was achieved, moreover, with the help of freer design layouts and original high-density mounting technologies. The unique evolution of projectors that promise to establish new standards for the next generation continues.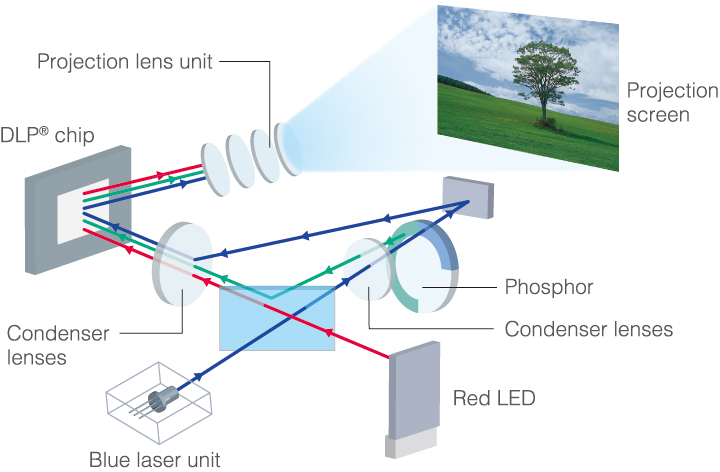 ---
High brightness, high contrast ratio, high color reproducibility
Luminance of 3100 lumens, a contrast ratio of 20,000 : 1, and reproducibility of 1.07 billion colors combine to achieve high-definition image projection.
---
Intelligent light control
The projection brightness is automatically adjustable in seven steps depending on the level of projection room illumination.
---
HORIZONTAL KEYSTONE CORRECTION
On top of conventional vertical keystone, new horizontal keystone correction has been added to simplify projector setup.

---
USB power supply compatibility
Operation with a 5V power supply and wireless presentations using Miracast-compatible receivers are supported.

---
Shorter Startup and shutdown time required
Project with confidence without delay. Casio Laser & LED Projectors has the ability to turn On/Off as fast as 5 seconds. This reduces waiting time comparing to Mercury Lamp Projectors.
The drastic reduction in waiting time for the projector to start up and shutdown allows you to be more time efficient during your presentation. This also means that you do not need to wait for the projector to cool down at all after your presentation.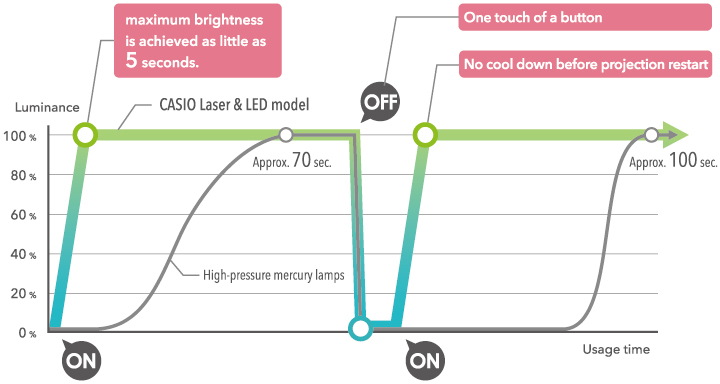 ---
Smart device applications [ Mirror Op Presenter / MirrorOp Receiver ]
Smart device apps enable cable-free projection of images such as teaching or other materials stored in a smartphone or tablet, website contents or photos taken with a built-in camera. Switching of input sources and volume adjustment can be handled by remote control, moreover, contributing to high-impact presentations and lessons.
Google Play and the Google Play logo are trademarks of Google LLC.
Apple and the Apple logo are trademarks of Apple Inc., registered in the U.S. and other countries. App Store is a service mark of Apple Inc., registered in the U.S. and other countries.
MirrorOp is a registered trademark of Barco Inc.
---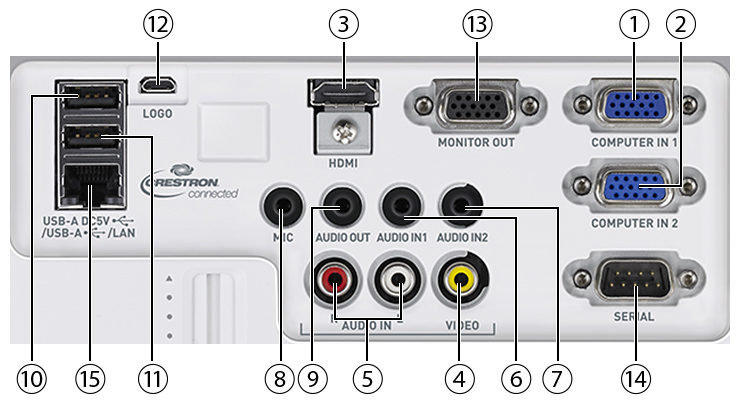 (1) Computer terminal 1
(2) Computer terminal 2
(3) HDMI terminal
(4) Video input terminal (RCA)
(5) Audio input terminal (RCA)
(6) Microphone input terminal
(7) Audio output terminal
(8) Audio input terminal 1
(9) Audio input terminal 2
(10) USB terminal 1 (Type A)
(11) USB terminal 2 (Type A)
(12) USB terminal (Micro-B)
(13) Monitor out terminal
(14) Control terminal (RS-232C)
(15) Wired LAN terminal
---
Linkage to CASIO Digital Equipments
Installation of various terminals in addition to an HDMI terminal frees users to choose among a wide range of presentation styles.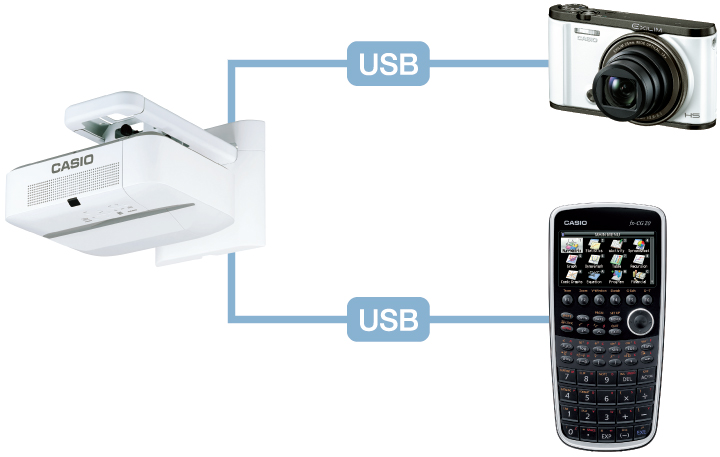 Digital cameras EXILIM
Project your photos and videos directly.
Not compatible with SDXC format (ex-FAT format).
Graphing Calculator fx-CG20
Connect the calculator to a data projector and project the calculator screen.
For more information, please check here .