TR-M11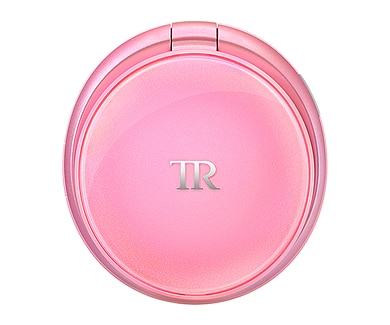 A new form for beauty and individuality. The new TR series. TR mini Debut!
Color Variations
See Color Variations by clicking on the tiles.
HANDY BEAUTY STUDIO
TR-M11 is a camera that was conceived around the concept of taking photos that will be popular on SNSs. With its evolved make-up functions and the addition of a new ring LED light, TR-M11 offers a photo environment that is like having your own dedicated make-up artist and being in the studio of a professional photographer. The design of TR-M11 allows you to easily carry it with you wherever you go, and to take selfies as you envision them at any time. You can also express yourself in even more individualistic and creative ways. By offering the Handy Beauty Studio as a personal tool, Casio supports all women who have made selfies a part of their daily lives.
---
Lighting technology optimized for taking selfies
Brighten faces, remove unnecessary shadows, and even add shading. The best lighting not only brings out your beauty, but also your individual qualities. TR-M11 incorporates LEDs to provide the lighting that selfies require. By combining technologies for various light controls with original technologies for make-up, you can achieve photos that make your face appear even more beautiful and that demonstrate your creative expression.
Ring LEDs (8 lights)
A total of 8 LED lights are positioned around the lens in a ring shape. The face receives uniform illumination, allowing you to take pictures at any time without worrying about how you're taking them. Furthermore, you can change the pattern and intensity of the illumination according to the situation or the style of the photo you want to take, giving you the control you need to achieve the perfect lighting for your beautiful and creative selfies.
Sub LED (1 light)
Even in the presence of overhead lighting that creates shadows under your eyes and around your neck, light generated from below reduces the level of shadow and allows you to take beautiful shots of your face as a whole, illuminating the areas below your cheeks, which tend to appear darker in particular, and creating a uniform brightness across the entire photo.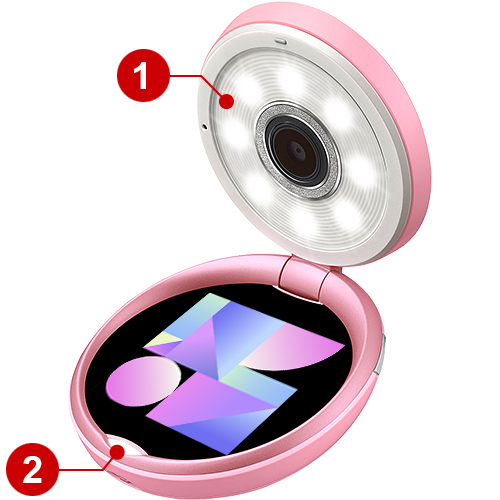 ---
Evolved make-up functions that expand expressivity
Sometimes, you have to pursue the ideal. Sometimes, you have to express a new you from how you feel that day. Now, the unique make-up functions of TR have evolved even further. Because these cameras are specially designed for taking selfies that draw out the greatest beauty of each individual, users can achieve a level of customization with over 10 million possibilities for self-expression. The cameras will fulfill your vision of the ideal selfie, no matter the person, place, or time.
Customizable make-up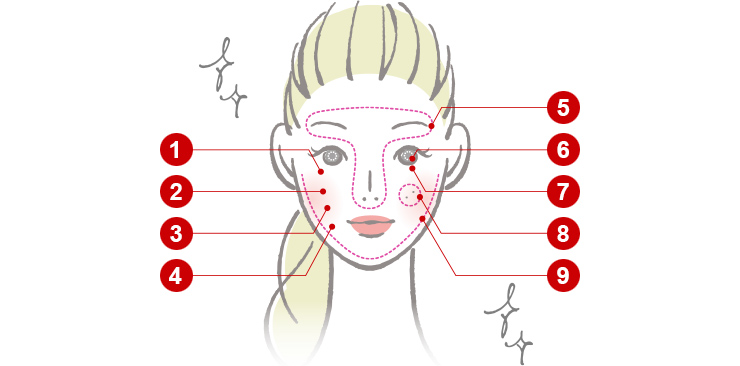 1.Skin Tone 2.Smooth Skin 3.Face Brightness 4.Tint 5.Sculpt 6.Catch Light 7.Dark Circles Remover 8.Mole Remover 9.Slim
Lighting for a beautiful face
TR combines an LED light optimized for taking selfies with make-up technology that is capable of maximizing the effects of this light. You can freely control the light to match the photography conditions and the beautiful look you want to achieve, allowing you to take a selfie just as you envisioned it.
---
Five color variations to fit your style
Cute, candy-like colors. A brilliant and luxurious look, like a pearl. On social media, where you might even share pictures of yourself taking a selfie, the camera itself becomes a fashionable item that expands your range of self-expression.
---
For even more enjoyable communication using social media
It's easy to take photos intended for social media, and photos can be posted right away. Further enrich your lifestyle.
Shoot photos and videos in a square shape, a style which is widely used on social media sites. You can check your angle on a monitor that is as wide as it is tall, allowing you to shoot artistic photos and videos with attention to composition.


You can "Auto Send" captured images to your smartphone simply by taking pictures as you usually do. Your images are sent directly to your smartphone, even when it's tucked away in your bag.
May not be possible depending on the communications environment or the smartphone model to be connected.

Use of this function requires a smartphone on which Exilim Connect has been installed.
Bluetooth ® low energy compatible smartphone required.
---
Bluetooth ® word mark and logo are registered trademarks of Bluetooth SIG, Inc. and any use of these marks by CASIO COMPUTER CO., LTD. is under license. All other trademarks and trade names are the property of their respective owners.
iPhone is a trademark of Apple Inc. registered in the United States and other countries.
App Store is a service mark of Apple Inc.
IOS is a trademark or registered trademark of Cisco Systems, Inc. registered in the United States.
Google PLAY is a trademark of Google Inc.
Android is a registered trademark of Google Inc.
All images shown here are simulations for explanatory purposes only.
Actual images may appear different from those shown here. Designs and specifications are subject to change without notice.