EX-ZR800

High-powered Zoom + Excellent image stabilization
[18x optical zoom / 36x Multi Frame SR ZOOM *1 ]
Multi Frame Super Resolution technology enables high-grade zoom photography up to approximately twice the optical zoom level with no decrease in resolution.
ZR800 of 18x optical zoom makes beautiful zoom shooting equivalent of 36x optical zoom possible.
*1 . Multi Frame Super Resolution technology extends zooming by up to twice the optical zoom while maintaining clarity and image quality.
[5-axis HS Anti Shake *2 for reliable night scene and zoom shooting performance]
Compensates to a high degree for pitch, yaw, vertical shift, horizontal shift and roll (5 axes direction) to eliminate hand jitter when aiming the camera.
Also, combines optical camera shake compensation (2 stops *3 ) with High-speed Continuous Shutter image merging (up to 9 shots) to increase camera shake compensation to 5 stops *2 and produce beautiful, blur-free photos.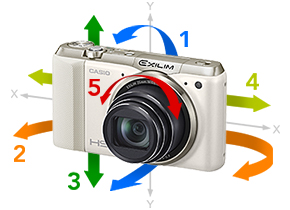 1. Pitching
2. Yawing
3. Vertical Shift
4. Horizontal Shift
5. Rolling
*2 . When shooting a still image in combination with optical camera shake compensation and High-speed Continuous Shutter image merging. Based on CASIO data.
*3 . Based on CIPA standards. During two-axis vibration. Equivalent to 340 mm when converted to 35 mm film.
NEW Time Lapse function enables you to view an action of an extended period in a short time
Shoot and record a subject at specified time intervals to combine the images as a single movie. By compressing the time sequence of changes shot over an extended period, you can accelerate and enjoy beautiful events such as the slow movement of clouds and the transition from dusk to evening.

EXILIM Engine HS, Ver 3 installed for remarkable high-speed operation
QUICK
Short shooting interval for stress-free photography
Approx. 1.3-second start-up time *
Approx. 0.18-second high-speed AF *
Approx. 0.016-second shutter release time lag *
Approx. 0.26-second shooting interval *
* Based on CIPA standards.
BEAUTIFUL
Beautiful results with a press of the shutter button
Premium Auto Pro
HDR
All-In-Focus Macro
Blurred Background
FUN
Discover a world of fun every time you press the shutter button
Time Lapse
HDR-ART
ART Shot
HS Night Shot
All images shown here are simulations for explanatory purposes only.
Actual images may appear different from those shown here. Designs and specifications are subject to change without notice.