EX-TR50

* App may not work on some smartphone models.
* Check Google Play or App Store for OS versions that are compatible with the app.
* App specifications and system compatibility are subject to change without notice.
NEW From the pursuit of beauty comes stunning image quality
EX-TR50 combines EXILIM Engine HS Ver.3 with a high sensitivity 1/1.7-inch CMOS sensor and a newly developed lens with outstanding optic qualities. Also equipped with a high brightness LED for capturing even more beautiful images in dark or backlit conditions, vastly improved self-portrait image results can be achieved in any situation. What this means is that you can enjoy self-portraits that are a cut above anything you've ever experienced before.

Powered by EXILIM Engine HS, Ver. 3
An advanced EXILIM Engine creating beauty for a new generation
NEW Make-up provides even higher quality images to enhance the expression of beauty
Through substantial improvements in basic image quality, skin tone and texture can be even more finely defined. The new "Skin Tone" settings allow even finer adjustments and combines with the standard "Smooth Skin" feature to allow you to adjust the tone and texture of your skin in any way you desire. Make-up provides you with the means to enhance and express skin beauty.
NEW Make-up BKT (Bracketing) ensures that you capture the skin tone you desire
With a single press of the shutter button, you can capture three images of varying "Skin Tone" make-up effects. This allows you to select the image that best expresses your preference with just one shutter release.
NEW A new design that expresses the "Brilliance" of a woman's beauty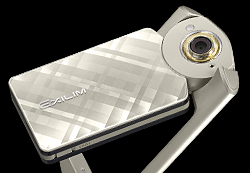 With "Brilliance" as its design concept, the EX-TR50 is fashioned to express the beauty that radiates from within every woman. The elegance associated with women is conveyed by features that include a front panel that shines differently depending on the angle of view and a decorative jewel-cut lens circle. The unique brilliance of the front panel brings the beauty that only made in Japan products can produce.
NEW Touch & New GUI features make taking self-portraits easy
Color coded according to function, the newly updated GUI features menu icon layouts that correspond to the camera's vertical or horizontal orientation and touch screen controls which are easy and intuitive. In keeping with the EX-TR50's theme of woman-like elegance, the visual appeal of the display is enhanced with a white based menu display, circular icons and other features.
Wi-Fi function for smartphone connectivity
The ability to control remote shooting with your smartphone and then transmit photos from the camera to your smartphone immediately after you take them adds enjoyable new versatility to your photographic experience.
* Installation of the dedicated EXILIM Remote app in your smartphone required.

EXILIM Engine HS, Ver. 3, making photography "Quick," "Beautiful" and "Fun"
QUICK
Stress-free photography in a wide variety of shooting styles
Approx. 0.99-second start-up time *
Approx. 0.23-second high-speed AF *
Approx. 0.24-second shooting interval *
Touch & New GUI
* Based on CIPA standards.
BEAUTIFUL
Beautiful results with a press of the shutter button
Make-up

Premium Auto Pro
HDR
FUN
Enjoy your camera even more than before
Digital Mirror
Promotion Movie
Decoration Function
Art Shot
HDR-ART
"The Wi-Fi CERTIFIED Logo is a certification mark of the Wi-Fi Alliance." should be used in addition to the appropriate notice symbol to indicate that the Wi-Fi Alliance owns the Logo.
iPhone is a trademark of Apple Inc. registered in the United States and other countries.
App Store is a service mark of Apple Inc.
IOS is a trademark or registered trademark of Cisco Systems, Inc. registered in the United States.
Google PLAY is a trademark of Google Inc.
Android is a registered trademark of Google Inc.
All images shown here are simulations for explanatory purposes only.
Actual images may appear different from those shown here.