EX-TR35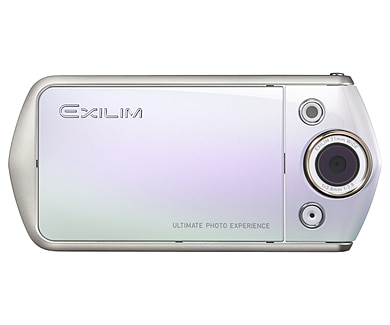 Color Variations
See Color Variations by clicking on the tiles.
For Android terminal supported OS: Android2.3.3-4.4
For iPhone supported OS: iOS5.1-8.1.1
* It may not work correctly depending on your model.
NEW A special coating that changes in color tone with your viewing angle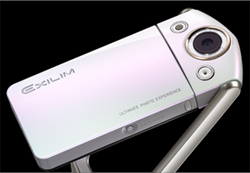 Featuring a polarized pearl and glass flake coating, specially blended to change in color tone with your angle of view. The rich shades of color along the rounded form produces a visual expression all its own.
* This product uses a special polarized coating. Depending on brightness and the angle of light, the appearance of the product may vary from what is presented here.

Powered by EXILIM Engine HS, Ver. 3
An advanced EXILIM Engine creating beauty for a new generation
Enhance your beauty with Make-up Mode self-portraits
Put your beauty in a whole new light. Just select Natural Mode to add a lighter tone and smoother texture to your skin, or choose Brightening mode for an even lighter skin tone.
Advanced self-portrait function
NEW Posing Shot lets you enjoy taking self-portraits like a professional model
One press of the shutter button triggers voice guidance prompts for five successive snapshots, allowing you to change poses between each shot just like a model.
NEW Triple Shot helps avoid untimely blinking to ensure beautiful images
Ideal for group photos, a single press of the shutter button takes three continuous shots, making sure that a photo opportunity isn't ruined by inconvenient blinking. This feature can even be used with Make-up Mode to enhance the skin tone of your subjects.
4 different shutter release methods make taking self-portraits easy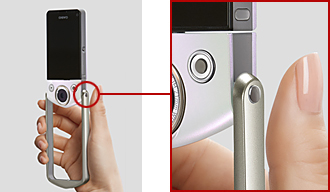 Self-portrait Shutter
· Self-portrait Shutter
· Motion Shutter
· Touch Sutter
· Shutter Button
Remote-controlled shooting by smartphone
The ability to check your image composition, shooting angle and pose on your smartphone screen before taking a shot means you can shoot more appealing self-portraits.
* Installation of the dedicated EXILIM Remote app in your smartphone required.
NEW Promotion Movie makes creating your own original short movies easy
Easily produce a short movie highlighted with image effects and background music from 5 still images. With 2 time settings, you can create either a 6 or 15 second sequence of images at HD quality. Make an origial promotion movie that's perfect for uploading to SNS sites via smartphone.
Wi-Fi function for smartphone connectivity
The ability to control remote shooting with your smartphone and then transmit photos from the camera to your smartphone immediately after you take them adds enjoyable new versatility to your photographic experience.
* Installation of the dedicated EXILIM Remote app in your smartphone required.

EXILIM Engine HS, Ver. 3, making photography "Quick," "Beautiful" and "Fun"
QUICK
Stress-free photography in a wide variety of shooting styles
Approx. 1.0-second start-up time *
Approx. 0.18-second high-speed AF *
Approx. 0.31-second shooting interval *
Capacitance touch panel with excellent operability
Charming multi-colored GUI
* Based on CIPA standards.
BEAUTIFUL
Beautiful results with a press of the shutter button
Make-up Mode

Premium Auto Pro
HDR
FUN
More fun during and after shooting
Decoration Function
Art Shot
HDR-ART
"The Wi-Fi CERTIFIED Logo is a certification mark of the Wi-Fi Alliance." should be used in addition to the appropriate notice symbol to indicate that the Wi-Fi Alliance owns the Logo.
iPhone is a trademark of Apple Inc. registered in the United States and other countries.
App Store is a service mark of Apple Inc.
IOS is a trademark or registered trademark of Cisco Systems, Inc. registered in the United States.
Google PLAY is a trademark of Google Inc.
Android is a registered trademark of Google Inc.
All images shown here are simulations for explanatory purposes only.
Actual images may appear different from those shown here.