EX-FR200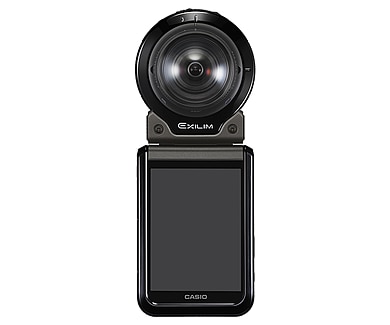 185°angle of view, delivered by a built-in single-focus f/2.8 Dome View lens
By capturing a wider view, this camera broadens the scope of outdoor shooting. In Dome View or Panorama shooting mode, you can grab an all-round view of your surroundings, while Super Wide Angle shots capture an opened-out perspective on the scenery before you. Shoot on the go, creating a stunning record of your experience, all without missing a beat.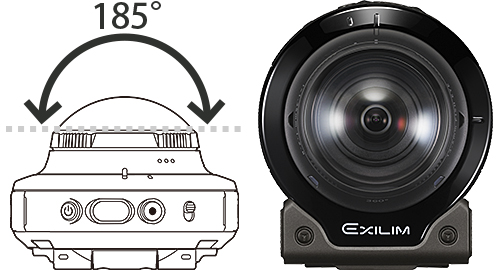 ---
Record an all-round view of your adventures, and relive them vividly
Record an all-round view of the moment in a single shot. Shoot on the go, whenever you like. There's no need to worry about the angle of view. Your images will capture more than the scenery in front of you: they'll also feature you, the friends around you, what's happening behind you, and more besides. Shoot still images and movie footage effortlessly, capturing the fun of the moment. Afterwards, you can use the EXILIM ALBUM smartphone app to relive the experience as if you were right there.
Use Dome View mode to record the undersea world in all its beauty
Use Panorama mode to capture watchers and climbers in a single shot
Use Super Wide Angle mode to record a wider view of the beautiful undersea world
With two cameras, you can even capture Full 360° images
---
EXILIM apps add to the fun by helping you view and transfer your images
With EXILIM Auto Transfer, you can auto-send your images to your smartphone. With EXILIM ALBUM, you can view Dome View and Full 360° images on your smartphone. You can view your images from multiple viewpoints, and move the viewpoint at will. You can even have the app automatically select highlights from your stills and movies, and then display them in a timeline, or create a movie montage for you.
---
Multi Camera mode opens up even more possibilities
You can use one controller to operate two cameras. This lets you enjoy pro-style shooting techniques, such as shooting with both cameras simultaneously or separately.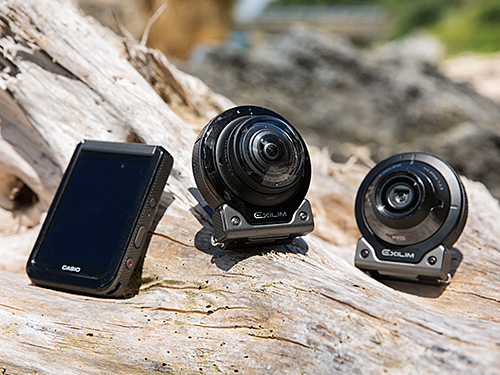 Using two FR200s, shoot your front and rear views at the same time
Use a FR200 and a FR100 to shoot your surroundings and yourself from different angles
---
Bluetooth ® word mark and logo are registered trademarks of Bluetooth SIG, Inc. and any use of these marks by CASIO COMPUTER CO., LTD. is under license. All other trademarks and trade names are the property of their respective owners.
"The Wi-Fi CERTIFIED Logo is a certification mark of the Wi-Fi Alliance." should be used in addition to the appropriate notice symbol to indicate that the Wi-Fi Alliance owns the Logo.
iPhone is a trademark of Apple Inc. registered in the United States and other countries.
App Store is a service mark of Apple Inc.
IOS is a trademark or registered trademark of Cisco Systems, Inc. registered in the United States.
Google PLAY is a trademark of Google Inc.
Android is a registered trademark of Google Inc.
All images shown here are simulations for explanatory purposes only.
Actual images may appear different from those shown here. Designs and specifications are subject to change without notice.