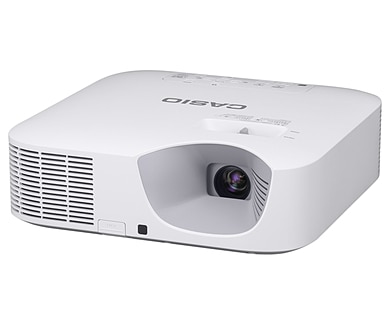 WXGA Real 3500 lumens
Multi function model with the ultimate TCO performance.
CASIO's Laser & LED Hybrid Light Source
Entering a new era of Solid State Illumination Light Source Projectors.
In 2010, CASIO became the first company in the world to develop a Laser & LED Light Source for projectors. Developed in response to the environmental, economic and utilitarian needs of the era, this Solid State Illumination Light Source technology is being quickly diffused throughout the projector industry as the new light source standard. CASIO can look forward to continued growth in an expanding market as the leading manufacturer of Solid State Illumination Light Source Projectors.
Laser & LED Light Source Technology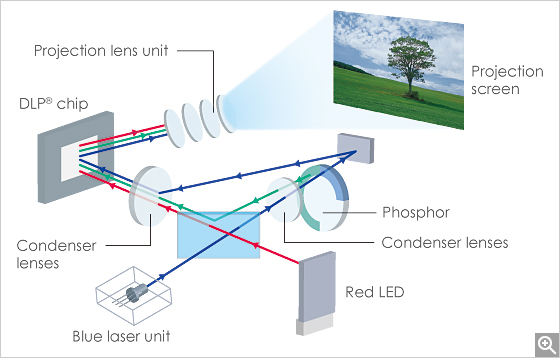 It began with CASIO's original development of an optical engine combining a high-luminance blue laser with a red LED. The high projection efficiency realized through outstanding energy-saving technologies and optical block optimization led to achievement of high brightness projection and lower energy consumption as compared with mercury lamp systems and other solid-state light sources. Product downsizing was achieved, moreover, with the help of freer design layouts and original high-density mounting technologies. The unique evolution of projectors that promise to establish new standards for the next generation continues.
Quick startup & shutdown time [Instant ON & OFF]
Startup takes as little as 5 seconds after the power is turned ON, dramatically reducing waiting time before image projection. Power OFF is achieved with one push of a button, and no cooldown is required before restarting. The ability to start projecting immediately increases efficiency in meetings and classes, and efficient power ON/OFF management can help conserve electricity as well.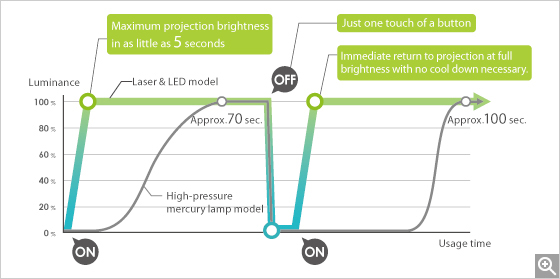 Instant Light Control
Brightness is automatically adjusted to the optimal level for room brightness, which reduces electrical power costs.
Adjustment is one of 7 brightness levels and Manual adjustment is also supported.
USB Power Supply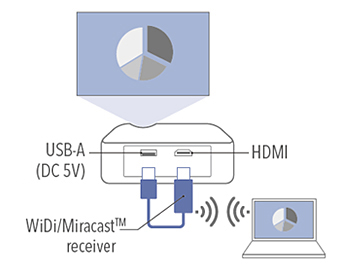 Support for smart presentations
Supplying power through a USB Port allows easy connection of any screen mirroring device using the HDMI Terminal. The USB port has a DC 5V,2A which provides power to the screen mirroring device such as Intel WiDi/Miracast™ using this port.
* Intel is a trademark or registered trademark of Intel Corporation in the U.S. and other countries.
* Miracast is a registered trademark of Wi-Fi Alliance.
Long life, high durability, low energy consumption Helping to reduce TCO *
The Laser and LED Technology has a long life light source that last approximately 20,000 hours. With the combined dust resistance design, it helps to reduce deterioration of the projector luminance which is commonly attributed to dust and also reduces the maintenance of Casio Projectors. Comparing to mercury lamp projectors, Casio requires little to no maintenance.
* TCO (Total Cost of Ownership): Total cost of introduction, maintenance, management, etc.
[ Comparison of total cost over 5 years ]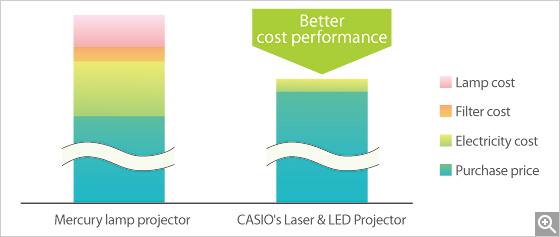 * With use for 5 hours/day, 200 days/year. Eco mode "Eco 1" selected.
ECOLOGY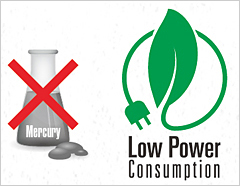 CASIO projectors are equipped with an SSI * light source employing the mostadvanced light source technology. Although the use of mercury is widely prohibited worldwide today, this hazardous substance continues to be employed as a light source for conventional projector lamps. CASIO has eliminated the use of mercury from its products in consideration of the environment. Adoption of an SSI light source, combined with CASIO's original energy-saving design, also contributes to reducing CO 2 emissions.
* SSI (solid state illumination) light sources employ LEDs, lasers or other such lighting technologies.
Dust resistance structure
Reduction in troublesome maintenance tasks for use in wide-ranging environments.
Intrusion of dust into the optical engine block is curtailed, minimizing degradation of the projection brightness. The time and effort spent on chores such as filter replacement are minimized, which is appreciated by people who use their projectors in dusty environments or mount them on the ceiling, where they can require time-consuming maintenance.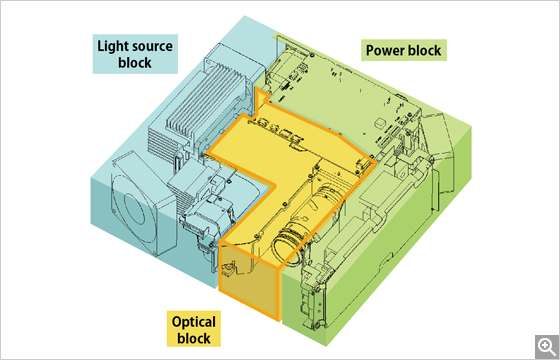 Realizing smart presentations Highly scalable interface
A DC 5V, 2A USB power supply makes connection possible without an external power source using screen mirroring devices. Two HDMI terminals permit smooth connection of additional devices without disturbing those already installed. A 16W high-output speaker is built in as well. You have all the tools you need to captivate your audience with a smart presentation.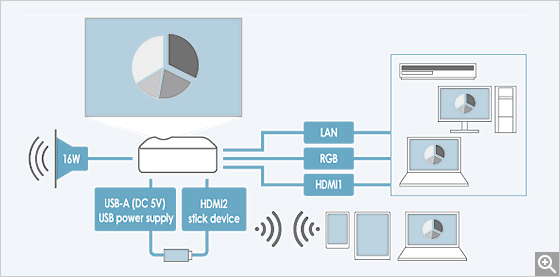 1.5X zoom lens & 360° installation available with all advanced models
The projector's wide-angle 1.5X zoom lens expands the range of locations suitable for installation. Other benefits include an unrestricted 360° installation angle that supports highly flexible image projection, expanding the range of projection possibilities. These include portrait projection from a vertical position, for example, or perpendicular projection onto the floor or ceiling, capitalizing on the characteristics of the unique semiconductor light source to handle a wide array of applications besides presentations, from information provision to various promotions.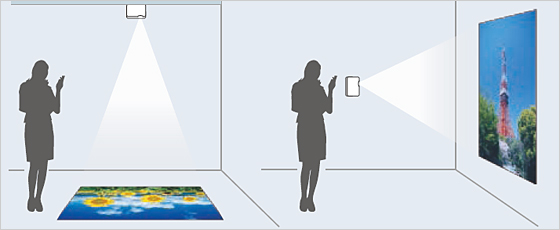 Automatic Brightness Control for smarter power savings
The Intelligent Light Control function senses the brightness level in a room and adjusts the projection luminance automatically in seven stages. A Quick Light Control function is also installed to handle manual brightness adjustment. this results to even more power savings.
Interfaces


USB terminal (Type A)

HDMI terminal

Computer terminal

USB terminal (Micro B)

S-Video input terminal

Control terminal (RS-232C)

Video input terminal (RCA)

Audio input terminal

Audio input terminal (RCA)

Audio output terminal