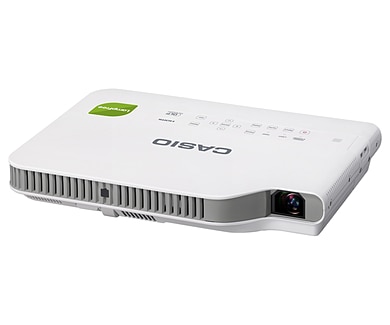 WXGA Real 2500 lumens
Innovative mobile styling, featuring a slim 43mm case, A4 document size and light 2.3kg weight.
Carry your projector along with your documents, or slip it neatly into a slim-lined briefcase. It goes to work wherever you need it, not only in conference rooms or classrooms but also on business trips or during training sessions.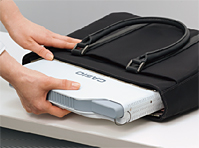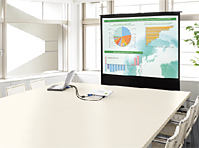 4 Key Qualities Realized by CASIO's Laser & LED Hybrid Light Source
Laser & LED Hybrid Light Source supporting high-brightness projection without mercury ECOLOGY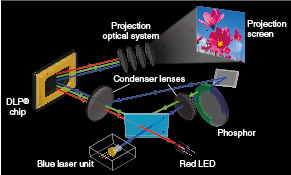 CASIO has applied its unique new Laser & LED Hybrid Light Source to achieve breakthrough development of a mercury-free high-brightness projector. Adopting a new semiconductor-based light source system combining a blue laser, phosphor and a red LED, we have achieved both high-brightness performance enabling projection in well-lit rooms and environmental friendliness with mercury eliminated from the light source.
Revolutionary new light source technology
CASIO developed a new semiconductor light source technology combining a red LED, phosphor and a blue laser. This source achieves high luminance safely by employing a phosphor device to modify the wavelengths and phases of blue laser light.
Approximately 20,000-hour long-life light source with less brightness degradation ECONOMY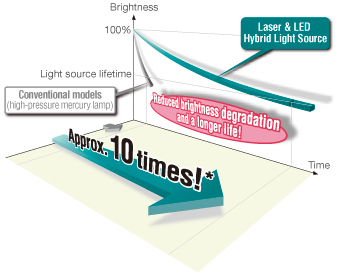 * Compared with conventional CASIO models,
as of February 2011. Source: CASIO
The light source's life of approximately 20,000 hours far outshines that of conventional projectors that require mercury lamp replacement. It saves maintenance labor and contributes to a significant reduction in operating costs. Since brightness degradation is more gradual than with mercury lamps, moreover, it maintains vivid image quality through long-term use.
Startup as quick as 5-seconds * Fast ON & OFF switching for convenient usability USABILITY
Projection at maximum brightness is achieved in as few as five seconds, and the time from startup to screen display is shortened dramatically, facilitating more effective use of limited time. No cooling down is necessary, moreover, when the power is turned OFF. Users can complete the process from setting up to packing up smartly and speedily.

Enhanced beauty and realism A further leap forward in
color reproduction VISIBILITY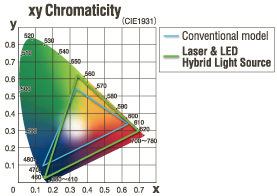 The dramatic improvement in color purity achieved by the new light source has significantly improved color reproduction. Not only are the colors clearer and more beautiful, but the projected images also look brighter due to the visual effects of the high-purity colors. Users benefit from clearer, more powerful images than conventional projectors can achieve.
Mobile configuration for carrying convenience
CASIO's innovative mobile styling has resulted in an A4-size projector that measures just 43mm in thickness and 2.3kg in weight. It slips neatly into a slim briefcase and travels with you easily to presentations outside your office.


43mm

297mm
Smart ceiling installation
An optional mount enables users to attach the projector securely to the ceiling. Its lightweight, compact design, matched to the shape of the main projector unit, is tastefully unobtrusive, ensuring that the projector blends in with conference room and classroom facilities and decor.
* When suspended from the ceiling, the projector vertically inverts the images for projection.
Wide-angle 2x zoom capability
The wide-angle 2x zoom lens boosts magnification to the highest level among data projectors. * This zoom capability enables the projector to project optimally sized images from close to the screen or farther away as well as to correct screen distortions resulting from the projector's positioning automatically.
* Source: April 2014 CASIO investigation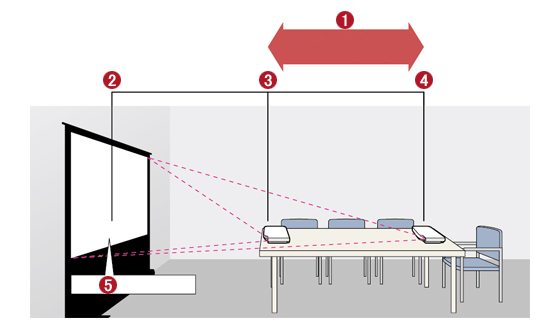 This positioning example is for WXGA (16:10) models.

Optimal positioning range

Distance from screen

1.4m

2.8m

With 60-inch screen
Interfaces


AV terminal

Computer terminal

HDMI terminal

USB terminal (Type A)
*

USB terminal (Micro-B)
* Supported models: XJ-A257/A247/A147
Linkage to CASIO Digital Equipment

[Digital cameras]
EXILIM
Project your photos and videos directly.
[Direct projector connection capability]
Graphing Calculator
Connect the calculator to a data projector and project the calculator screen.
For more information, please check here .
* Supported models: XJ-A257/A247/A147