XW-G1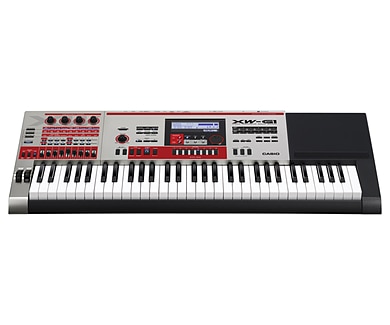 6 Oscillator Monophonic Solo Synthesizer
Sample Looper
Sample Player
A complete interface provides real-time control for new-concept track making.
It incorporates rotating knobs and slider switches with various parameters assignable, depending on the circumstances. Control cool sounds any way your senses desire for distinctively original track making.
A Step Sequencer that plays back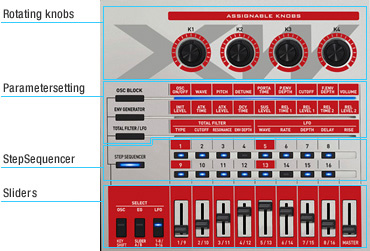 16-step sequence patterns in a loopSpecific patterns selected from 100 x 8 variations on preset groove music performance patterns, representing such genres as techno, house, hip hop and electro, are played back in a loop. You can create original tracks, adding your own arrangements by controlling the sound for each beat with the 16 ON/OFF buttons, for instance, and by changing notes and velocities in real time with the 9 Sliders. A Chain Function has been added as well to let track makers link together up to 99 multiple musical performance patterns and play them back in a loop. This permits creation of up to 100 variations on the original patterns.
Present your own distinctive sounds by sampling a variety of sounds and phrases.

A Sample Looper capable of overdubbing a diverse range of sounds
Performances conducted on the instrument itself as well as external sounds can be looped for up to 19 seconds and overdubbed. This feature is useful for creating tracks to serve as original sound sources. Track makers can use the Beat mode to record a single-beat sound segment and repeat it a specified number of times, the Split mode to take multiple samples consecutively in a single recording, or the OVDB mode to conduct overlapping recordings on top of recorded samples. The Sample Bar enables you to select the appropriate mode for any particular circumstance.
A User Wave Tone for saving sampled sounds as user tones and using them in various performances
Up to 10 types of sound sources with a maximum of 50 tones prepared using the Sample Looper can be stored (in the Split mode). These tones can be used during a keyboard performance, for loop playback of Step Sequencer sequences or as user drum sound sources. Varying the pitch, filter or amplifier with the dedicated Envelope Generator is also possible.
Contemporary sounds dynamically deployed in club music
Various complete Solo Synthesizer tones, from standard synth sounds to highly distinctive sounds, are available.
It incorporates 766 incorporated synth waveforms adopted from trendy club scene sounds as well as 701 drum waveforms and 20 drum set variations carefully selected from club music. Together, they facilitate creation of super-cool, high-energy groove tracks.
A Phrase Sequencer for call out and playback of sequential phrases

Built-in resources also feature 100 preset phrases, including high-speed synthesizer phrases and drum loops. Specified phrases can be played back during a performance (looping possible) to boost the excitement level even higher. A selection of up to 100 phrases used in performances
can also be registered as original phrases.
An Arpeggio Function that can be synchronized with the Step Sequencer

Arpeggio patterns that adopt pressed keys as constituent sounds can be used for automatic loop playback. This function opens up even more performance possibilities using the keyboard or Step Sequencer.
A Multi-function Key for assigning various phrases and functions to the keyboard
Various phrases and functions, including Sequence Phrase, Tempo Switching, Effect and Control Change, are assignable to 25 keys. The parameters can be switched instantaneously or phrases played back, capabilities realizing superior real-time operability.
5.4 kg lightweight body for easy carrying to a club or party. Battery-powered operability assures access to a power source, even in circumstances such as outdoor performances.