GZE-1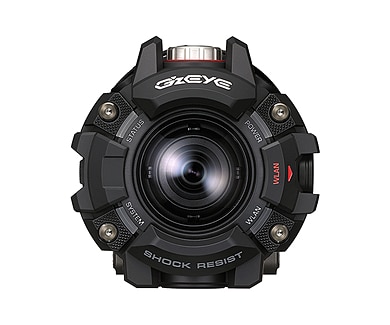 A tough camera for tough shooting.
From harsh seas and rugged snowy mountains to tough city streets. Push your limits on all fields. The birth of COOL STREET GEAR G'z EYE brings action to the world of visual communication.
Strength to overcome the limits of your environment
In an urban or extreme sports setting, strength matters. Inspired by G-SHOCK and constructed with the same durability, the G'z EYE copes with harsh environments, extreme conditions, and demanding activities. This is a camera you can use anytime, anywhere, in any situation — without worrying about breakage.
[ Shock resistance Dropping up to 4m *1 ] Tough against shock and vibration
Endures drops and impacts with shock-resistant performance, ideal for situations where drops from heights, harsh collisions and tumbles may occur.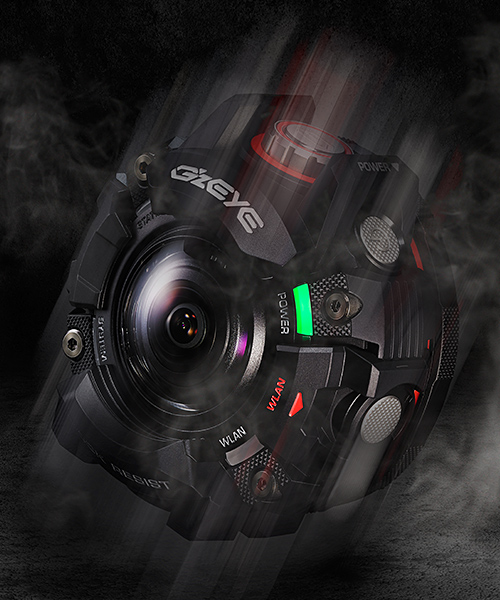 [ Water-proofing Depths up to 50m *2 ] Endures the roughest waves
Use with peace of mind in sudden rain or underwater. Unique air-tight build won't succumb to even the harshest of waves. Also mounts on your surfboard to capture you in action.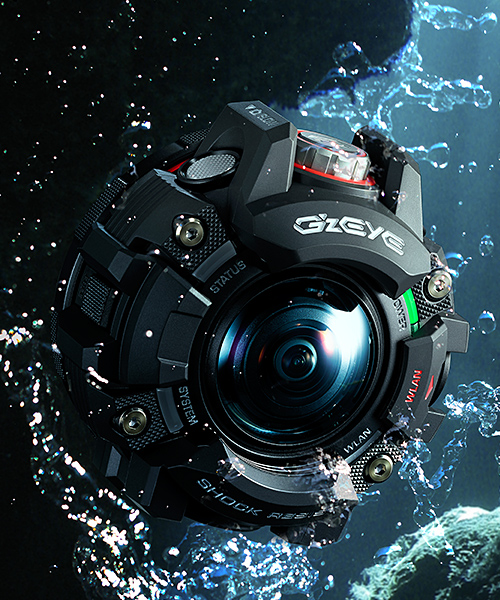 [ Dust-proofing IP6X standard *3 ] Shrug off dirt
Shuts out grit and dirt with a unique dust-proof build. Made for harsh environments — if it gets dirty, just clean using water.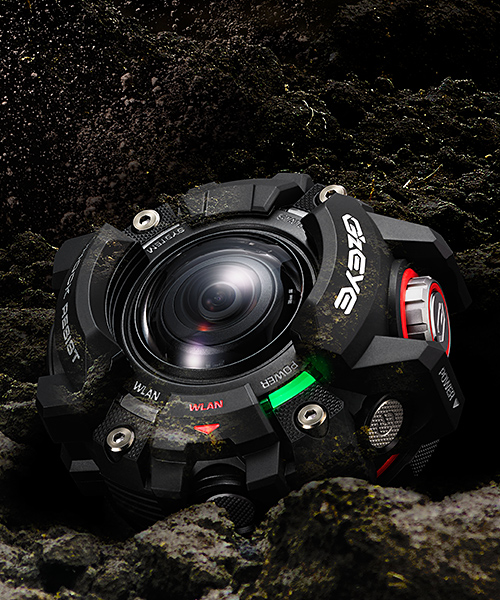 [ Low-temperature resistance -10℃ *4 ] Doesn't give in to cold
Tackles environments as low as -10℃ (14°F). Use on the slopes or go off-piste.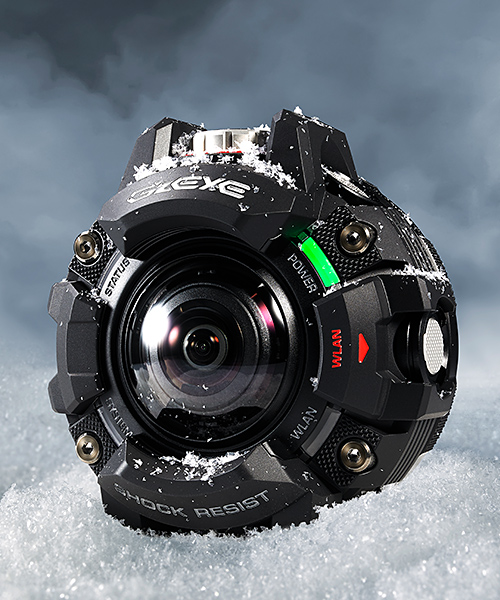 *1 : Shock-resistance: Built to our unique standards based on MIL-Standard 810G Method 516.7-Shock, the product cleared testing when dropping from heights of 4 m onto plywood (lauan wood).
*2 Water-resistant: Equivalent to JIS/IEC grade 8 (IPX8). Survives continued immersion at depths up to 50 m for 30 minutes, and can endure direct splashes from all directions. Cleared water injection (immersion machine) testing to grade 8.8 of JIS F 0812:2006 standard. The product clears a test involving exposure to water jets at a strength of 10 atm (a Casio standard).
*3 Dust-proofing equivalent to JIS/IEC grade 6 (IP6X).
*4 For use in temperature ranges of -10℃ to 40℃. However, where battery temperature falls below 0℃ (32°F), wireless LAN connectivity will not function. Generally, as temperatures drop, battery capacity will temporarily degrade, decreasing the photography time and number of shots you can take. Try not to expose the spare battery to cold.
* As this product's shock resistance and dust resistance are tested according to our unique standards, resistance to damage or breakdown are not guaranteed.
---
[ Super wide angle photography ] Create dynamic images with a sense of perspective
Equipped with Super Wide Angle lens for recording FHD movies covering of 170.4° * , or snapshots covering 190.8°. Covers a wider scope to keep your subject in frame more easily, so you can shoot without worrying about angles, or even shoot blind. Take in a wider view to create images with greater presence when taking close-up selfies or POV images.
When Movie Anti Shake is set to "off" or "standard" mode.
---
[ Dramatic slow motion ] Slow down parts of movies wherever you like, by as much as you like
The moment you press the Slow button while recording movies, frames before and after are captured at high speeds of 4 or 8 times the normal framerate. Don't let the best extreme sports tricks and jumps go unnoticed — slow down the most exciting moments to make the coolest movies. By customizing the Slow Motion Time and Timing settings, even high speed action can be captured. You can also make it dramic by incorporating slow motion footage into a movie as many times as you like, where action continues moment to moment.
---
[ G'z EYE ] G'z EYE dedicated smartphone app

From recording to playback, uploading to social media, and all kinds of settings, you can do it all from the app. Use your familiar smartphone to make use of G'z EYE just the way you want to.

App may not work on some smartphone models.
Check Google Play or App Store for OS versions that are compatible with the app.
App specifications and system compatibility are subject to change without notice.
---
Connect with your Smart Outdoor Watch
Link with the Smart Outdoor Watch (WSD-F20/F10) to control the camera remotely. View still images and movies in the palm of your hand.
To link the devices, check that the latest firmware is installed on the G'z EYE. Issues may arise when not using the latest firmware.
---
Bluetooth ® word mark and logo are registered trademarks of Bluetooth SIG, Inc. and any use of these marks by CASIO COMPUTER CO., LTD. is under license. All other trademarks and trade names are the property of their respective owners.
iPhone is a trademark of Apple Inc. registered in the United States and other countries.
App Store is a service mark of Apple Inc.
IOS is a trademark or registered trademark of Cisco Systems, Inc. registered in the United States.
Google PLAY is a trademark of Google Inc.
Android is a registered trademark of Google Inc.
All images shown here are simulations for explanatory purposes only.
Actual images may appear different from those shown here. Designs and specifications are subject to change without notice.