EX-TR80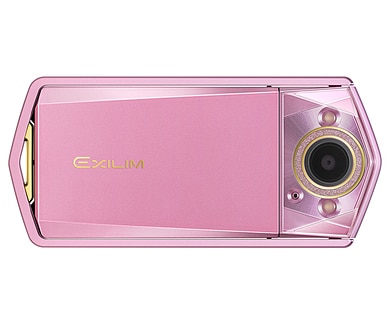 Color Variations
See Color Variations by clicking on the tiles.
VERSION UP!
Pimple and Mark Removed
Lip Effects
Cheek Effects
Nose Sculpting
Eye Translucency Processing
Pimple and Mark Removed
This built-in function locally deals with pimples and marks through detailed analysis of your complexion. It's as if you were using concealer! And thanks to the advanced analysis technology, dimples and moles are automatically distinguished so that they aren't removed in the process.
Lip Effects
Give your lips a glossy look. When the Skin Tone option is set to Pink/Pink+, a slight gloss effect will be applied for a gorgeous look.
Cheek Effects
When the Skin Tone option is set to Pink/Pink+, not only will your skin appear clear, but a slight pinkness will be applied to your cheeks. This gives you a fresh, vibrant look.
Nose Sculpting
In line with the basics of makeup, highlights are applied to the bridge of the nose, and shadows are applied on both sides to create a more realistic sense of sculpting.
Eye Translucency Processing
This newly added process brings out the translucent quality of your eyes, making your expressions even more vivid.
---
Personal Customization
There are six make-up effect settings: "Skin Tone," "Smooth Skin," "Face Brightness," "Sculpt," "Dark Circles Remover," and "Slim Face." Customize these six make-up effect settings to get your selfies looking just the way you want. Save the latest settings as your personal data, and you'll be able to take selfies with your own customized settings, any time you like.
Skin Tone
Take selfies where your skin tone is just the way you want
Part of TR series, this camera is designed to make your selfies look amazing. That's why it has a wide range of settings for adjusting the way your skin looks. The skin tone settings range from natural to rosy, so you can make your complexion look healthy, fresh, and exactly as you'd like it to be.
Smooth Skin
Make your skin look free of blemishes, dullness, and visible pores
Adjust the Smoothness of your skin to make your complexion look smooth and even.
Face Brightness
Radiant, translucent skin
Control the brightness of the skin area in your selfie, giving your skin a bright, translucent quality without any loss of detail.
Sculpt
Sculpt your features
Emphasize the shading below your brows and around the bridge of your nose. Use shading effects to make your face look more sculpted.
Dark Circles Remover, Slim Face
Look better and slimmer-faced, instantly
Dark Circles Remover: By minimizing natural shading, this feature eliminates undesirable dark circles below your eyes. It also evens out your complexion and makes it look smoother.
Slim Face: This feature performs a 3D analysis of your skin and subtly slims the contours of your face.
---
Intelligent Adjustment
The Portrait Refiner function automatically analyzes the shooting conditions and the subject. Whatever your actual complexion and whatever the light source, the camera applies your pre-set make-up effect settings, so you can take optimized images any time and any place.
White Balance Improvement for Photography in Incandescent Lighting
Improves the image quality for a more natural tint, removing excessive yellow tinge from incandescent lighting.
Wedge Shaped Design
The camera itself is ultra-slim, with an outer frame made from aluminum. We've used our advanced machining technology to make this model slimmer than ever, whilst still retaining all the necessary strength. Thanks to the elegant design, you'll look great using it, too.
[ EXILIM Auto Transfer ] Auto send images to your smartphone at the press of a shutter button


You can "Auto Send" captured images to your smartphone simply by taking pictures as you usually do. Your images are sent directly to your smartphone, even when it's tucked away in your bag.
May not be possible depending on the communications environment or the smartphone model to be connected.

Requires installation of smartphone specific app "EXILIM Connect".
Bluetooth ® low energy compatible smartphone required.
Easily send images using QR Code
A QR code is displayed when you select an image using the One Time Share function. By loading the QR code onto your smartphone, you can easily share images there and then, without being asked to install an app or providing contact information.
Picture information of the QR codes is saved. They can then be printed and sent, uploaded to SNS, or used in various other ways.
---
[ Instant Movie ]
Filming is possible while the button is being pressed, enabling the user to produce their own original movies by joining together multiple cuts. The make-up effects are supported in created videos to enhance the enjoyment of posting them to SNS sites.
---
Bluetooth ® word mark and logo are registered trademarks of Bluetooth SIG, Inc. and any use of these marks by CASIO COMPUTER CO., LTD. is under license. All other trademarks and trade names are the property of their respective owners.
"The Wi-Fi CERTIFIED Logo is a certification mark of the Wi-Fi Alliance." should be used in addition to the appropriate notice symbol to indicate that the Wi-Fi Alliance owns the Logo.
iPhone is a trademark of Apple Inc. registered in the United States and other countries.
App Store is a service mark of Apple Inc.
IOS is a trademark or registered trademark of Cisco Systems, Inc. registered in the United States.
Google PLAY is a trademark of Google Inc.
Android is a registered trademark of Google Inc.
QR Code is a registered trademark of DENSO WAVE INCORPORATED.
All images shown here are simulations for explanatory purposes only.
Actual images may appear different from those shown here. Designs and specifications are subject to change without notice.