EX-10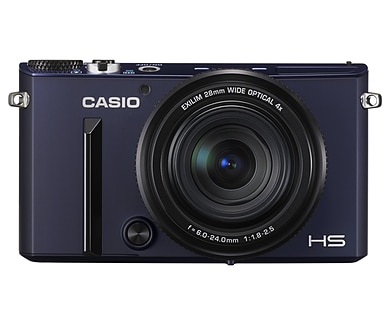 NEW World First * Dual combination bracketing function
enables Intelligent Bracketing for enhanced photographic expression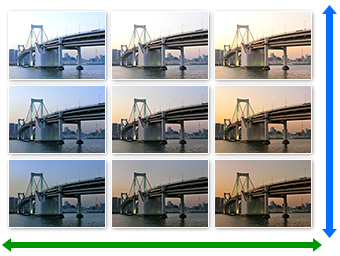 White Balance

AE
Intelligent bracketing means that with a single press of the shutter button you can continuously shoot nine images while changing the settings of two parameters such as focus and aperture or white balance and brightness at three levels. Now you can capture images that you never thought possible as well as enjoy subtle variations in image quality.
* As a bracketing function for an integrated lens digital camera which uses 2 kinds of parameters, such as white balance and AE. (CASIO survey on November 14, 2013)
NEW Powered by EXILIM Engine HS, Ver.3 ADVANCE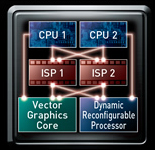 EXILIM Engine HS,
Ver.3 ADVANCE


Normal Dual
CPU engine
Two image processing circuits provide high-speed performance taking the EXILIM Engine HS, Ver. 3 to the next evolutionary step of even faster digital processing, a tune-up that also brings improved noise reduction. This new engine maximizes the performance of the highly sensitive sensor and the large aperture lens with its enhanced imaging performance.
NEW High-resolution 3.5 inch tilt-type LCD for easy shooting at virtually any angle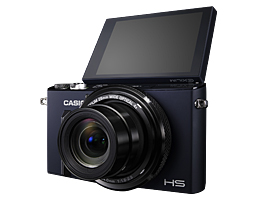 The 3.5-inch 920,000-pixel LCD faithfully reproduces the beauty of high-definition images. Taking advantage of the 3.5 inch LCD's large screen has made possible a number of innovative features including a new mini review display mode that doesn't obstruct the through screen when shooting, as well as a multi-display mode capable of displaying up to 100 images during playback preview. Tilt mechanism (Up: 180, Down: 55) enables a great variety of shooting styles.
· "The Wi-Fi CERTIFIED Logo is a certification mark of the Wi-Fi Alliance." should be used in addition to the appropriate notice symbol to indicate that the Wi-Fi Alliance owns the Logo.
· iPhone is a trademark of Apple Inc. registered in the United States and other countries.
· App Store is a service mark of Apple Inc.
· IOS is a trademark or registered trademark of Cisco Systems, Inc. registered in the United States.
· Google PLAY is a trademark of Google Inc.
· Android is a registered trademark of Google Inc.
All images shown here are simulations for explanatory purposes only.
Actual images may appear different from those shown here. Designs and specifications are subject to change without notice.