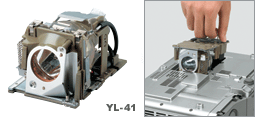 The average life of a lamp is approximately 2000 hours, which is depended on use conditions. After 2000 hours, a message appears to alert users to the need of lamp replacement.
Keep of genuine replacement lamp in advance is recommended.
Super Slim Projectors
YL-6B
YL-5B
YL-5A
YL-4B
Model: XJ-S48/XJ-S43/XJ-S33/XJ-S43W
YL-4A
Model: XJ-SC215/XJ-SC210/XJ-S47/XJ-S42/XJ-S46/XJ-S41
YL-3B
YL-3A
Model: XJ-S37/XJ-S32/XJ-S36/XJ-S31/XJ-S35/XJ-S30
YL-43
Model: XJ-S46/XJ-S41 * for ceiling installation only
YL-36
Model: XJ-S36/XJ-S31 * for ceiling installation only
Other Projectors
YL-41
YL-40
YL-31
YL-30
Model: XJ-350
Green Slim Projectors
Green Slim series projector's light source uses a laser and LED without using conventional high-presure merucry lamp.
The life of the light source is rated at approximately 20,000 hours.
The failure of the light source to light or a noticeable drop in brightness indicates the end of the light source's life.
Contact your original dealer or authorized CASIO service center for replacement.