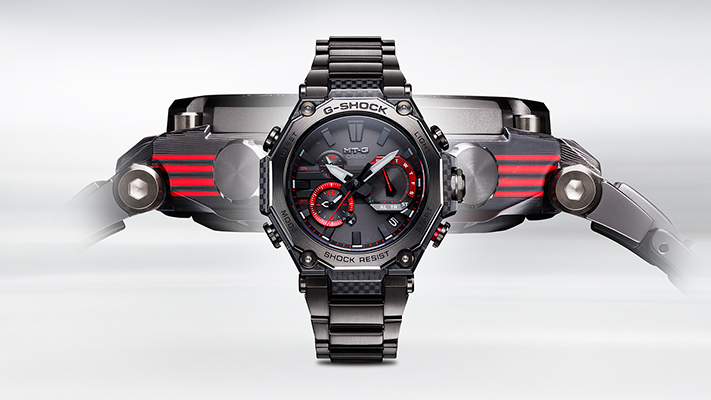 TOKYO, September 15, 2021 — Casio Computer Co., Ltd. announced today the latest additions to the G-SHOCK brand of shock-resistant watches. The new MTG-B2000YBD and MTG-B2000XD are part of the MT-G line of watches that feature a construction that makes the most of the properties of both metal and resin, and a bezel component made of multilayer carbon.
The MTG-B2000YBD and MTG-B2000XD are based on the MTG-B2000, which features a Dual Core Guard structure that gives added strength while highlighting the appeal of the materials. The new watches employ a newly developed bezel frame and top made of carbon materials, creating a beautiful exterior design while also reducing weight.
The MTG-B2000YBD has a bezel frame at its sides that is formed by layering and machining multiple carbon and fiberglass sheets. The new bezel frame is 77% lighter than the stainless steel one used in the MTG-B2000. The top-layer carbon sheet is wrapped around the side, and cylindrical carbon sheets are wrapped around the lugs for enhanced durability. A polygonal crown complements the bezel design. Fiberglass layers in G-SHOCK red provide a stylish accent around the sides of the case, with red indicators accenting the watch face.
The bezel top of the MTG-B2000XD has a complex shape made by using advanced pressing and cutting processes on the multilayer carbon material. The side view of the bezel reveals fiberglass layers in an all-new original green, giving the watch a sporty and refined look.
Both new watches feature a layered-composite band made from both metal and fine resin parts. The band is even lighter weight thanks to the new hollow metal components crafted with specialized molding technology. These enable more resin to be used in the back of the band, delivering an even better fit while still retaining the look and luster of metal where it counts.
The MTG-B2000YBD and MTG-B2000XD deliver full-on functionality including radio-controlled time-calibration signal reception and Mobile Link pairing with a dedicated smartphone app, as well as automatic time correction when the paired smartphone is near. A high-brightness LED light maintains watch readability in the dark for optimum convenience.
| Models | Band | Color |
| --- | --- | --- |
| MTG-B2000YBD | Layered composite | Red |
| MTG-B2000XD | Layered composite | Green |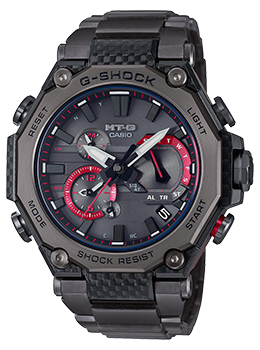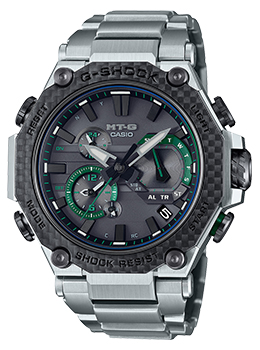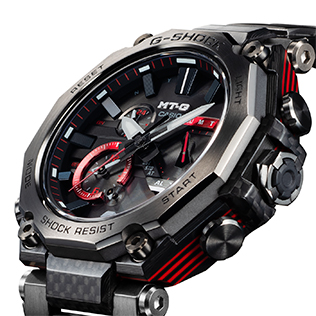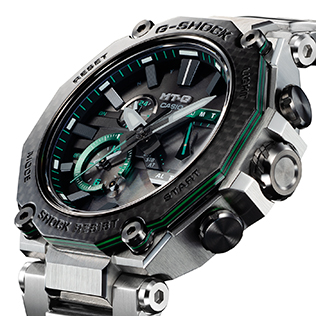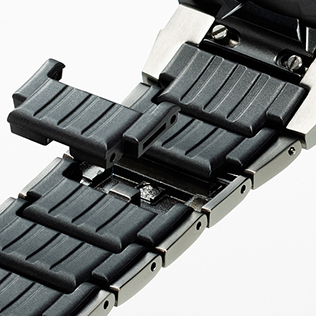 Specifications
Construction

Triple G Resist (shock-resistant, centrifugal force-resistant, vibration-resistant)

Water Resistance

200 meters

Radio Frequency

77.5 kHz (DCF77: Germany); 60 kHz (MSF: UK); 60 kHz (WWVB: USA); 40 kHz (JJY: Fukushima, Japan) / 60 kHz (JJY: Kyushu, Japan); 68.5 kHz (BPC: China)

Radio Wave Reception

Automatic reception up to six times a day (except for use in China: up to five times a day); manual reception

Communication Specifications

Communication Standard

Bluetooth ® low energy

Signal Range

Up to 2m (may differ depending on surrounding conditions)

Stopwatch

1 second; measuring capacity: 24 hours

Countdown Timer

Measuring unit: 1 second (maximum 24 hours)

Other Functions

Mobile Link functions (automatic time adjustment, easy watch setting, world time: over 300 cities, phone finder, watch status display, self-check function); auto hand home position correction; hand shift feature; daily alarm; dual time (27 time zones, home time swapping, auto summer time [DST] switching); power saving; full auto-calendar; LED light (super illuminator and afterglow); day and date display

Power Source

Tough Solar power system (solar-charging system)

Continuous Operation

About 5 months after full charge, using all functions but without solar charging
About 29 months with the power-saving function ON after full charge

Size of Case

MTG-B2000YBD: 55.1×49.8×15.9mm
MTG-B2000XD: 55.1×49.8×15.9mm

Total Weight

MTG-B2000YBD: Approx. 131g
MTG-B2000XD: Approx. 150g
The Bluetooth ® word mark and logos are registered trademarks owned by Bluetooth SIG, Inc., and any use of such marks by Casio Computer Co., Ltd. is under license.
---