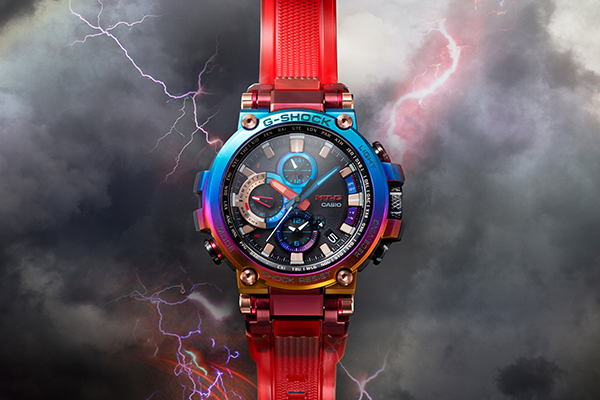 Tokyo, March 19, 2020 — Casio Computer Co., Ltd. announced today the release of the latest addition to its G-SHOCK line of shock-resistant watches. The MTG-B1000VL of the MT-G series of watches, which are known for a construction that combines metal and resin, boasts a striking multi-colored design that represents volcanic lightning * .
Lightning caused by volcanic eruptions is generated by the triboelectricity of water vapor, volcanic ash, volcanic rock, and other materials erupting from a volcano. The specific mechanism at work is unknown because it occurs in such a unique environment and is difficult to study.
The MTG-B1000VL reproduces the frightening yet beautiful blue, purple, and gold colors of the lightning caused by a volcanic eruption with a rainbow ion-plated bezel and a multi-colored dial. The rainbow-colored bezel finished with ion plating is overlaid with the image of the rare atmospheric phenomenon of volcanic lightning, which produces subtle differences in coloring that allow each wearer to enjoy their own unique glow. The MTG-B1000VL is also the first MT-G series model to use a semi-translucent red soft urethane material for the band—to represent the aggression of magma bubbling up—rendering a distinct image of power on the wrist.
The base model for the watch is the MTG-B1000, which delivered toughness in a compact case by employing a Core Guard Structure that links the bezel and back cover with planar parts. The MTG-B1000VL offers a special combination of advanced features like smartphone connectivity and solar-powered radio control with an inventive design.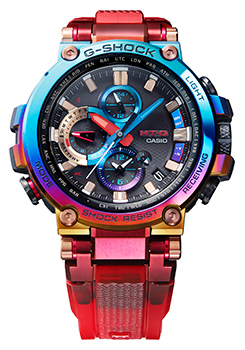 MTG-B1000VL Promotion movie
Specifications
Construction

Shock-resistant

Water Resistance

200 meters

Radio Frequency

77.5 kHz (DCF77: Germany); 60 kHz (MSF: UK); 60 kHz (WWVB: USA); 40 kHz (JJY: Fukushima, Japan) / 60 kHz (JJY: Kyushu, Japan); 68.5 kHz (BPC: China)

Radio Wave Reception

Automatic reception up to six times per day (except for use in China: up to five times per day)

Communication Specifications

Communication Standard

Bluetooth ® low energy

Signal Range

Up to 2 meters (may differ depending on surrounding conditions)

World Time

27 cities (39 time zones,

*

daylight saving on/off) and Coordinated Universal Time; auto summer time (DST) switching; home time/world time switching

May be updated when connected to a smartphone.

Stopwatch

1 second; measuring capacity: 23:59'59; measuring modes: elapsed time

Countdown Timer

Measuring unit: 1 second (maximum 24 hours)

Other Functions

Mobile Link functions (world time: over 300 cities, auto time adjustment, easy watch setting, phone finder); day and date display; full auto-calendar; LED light (super illuminator and afterglow); battery level indicator; daily alarm

Power Source

Tough Solar power system (solar-charging system)

Continuous Operation

About 18 months with the power-saving function

*

ON after full charge

Power-saving after a certain period in a dark location

Size of Case

55.8 × 51.7 × 14.4 mm

Total Weight

Approx. 123g
The Bluetooth ® word mark and logos are registered trademarks owned by Bluetooth SIG, Inc. and any use of such marks by Casio Computer Co., Ltd. is under license.
---