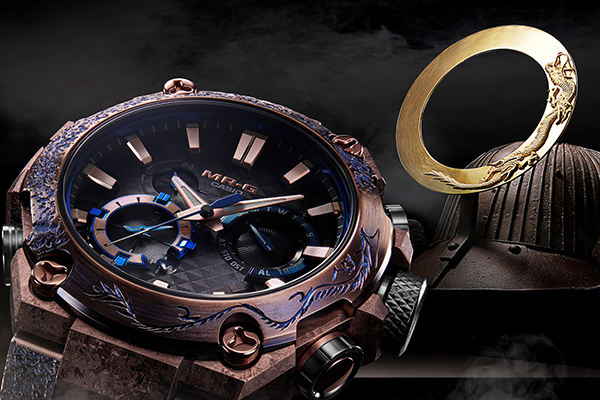 Tokyo, March 19, 2020 — Casio Computer Co., Ltd. announced today the release of a new addition to the MR-G Series, the flagship line of the G-SHOCK brand of shock-resistant watches. The MRG-B2000SH Shougeki-Maru takes its inspiration from the traditional kabuto (helmet) worn by Japanese samurai. A limited edition of just 400 of these watches will be released worldwide.
The new MRG-B2000SH is inspired by Shougeki-Maru, an original kabuto piece that was commissioned for MR-G. Kabuto were worn by Japanese samurai when heading into battle and are known for their samurai aesthetic and symbolizing the strong convictions of samurai. These qualities resonate with the MR-G pursuit of ultimate toughness and aesthetics.
As befits the MR-G Series and its continued pursuit of excellence, each bezel is individually hand carved by Masao Kobayashi, a metalsmith highly skilled in the technique of chasing, with the image of a dragon climbing to the heavens.
The surface of the bezel and band simulates the tetsu sabiji (rusted steel) finishing technique used on the Shougeki-Maru kabuto helmet. The aged feel was reproduced by using special dies based on the sand dies by casting artisan Masanao Kikuchi. Additionally, the bezel and band are finished with layers of brown and blue ion plating (IP) to create the rugged look of rusted steel and the look of the navy blue ito odoshi * used in the Shougeki-Maru kabuto, respectively. This gives a unique textured finish that enhances the deep colors of the rusted steel look.
Overlaying plates of armor bound together with navy blue string.
The rugged textures and unique colors create a deeply inspired design that evokes the aged beauty of the kabuto helmet.
In terms of features, the MRG-B2000SH pairs with a smartphone using Bluetooth ® and receives radio wave time-calibration signals, automatically correcting the time upon arriving in a different time zone without having to operate the buttons. The MRG-B2000SH is a truly special watch that delivers both advanced technology and master craftsmanship.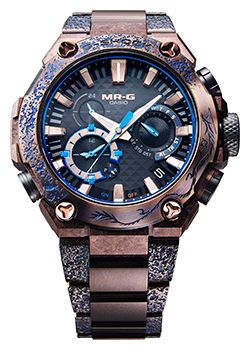 Masao Kobayashi
Third-generation metal craftsman working in Shiga Prefecture's city of Otsu. Active as a metal engraver as well, with experience studying engraving in Kyoto. Works with a wide range of decorative metal crafts, including crafting shrine and temple fixtures, restoring historic cultural assets, crafting tea ceremony implements and engaging in artistic craftwork. One of Japan's premier artisanal metalworkers.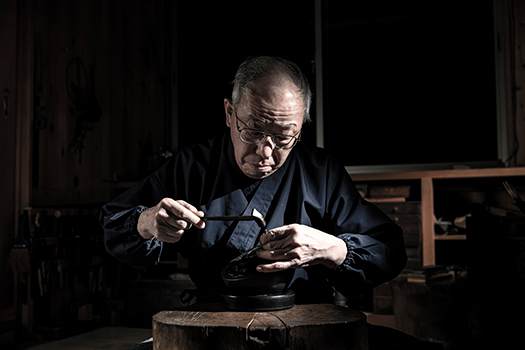 MRG-B2000SH Promotion movie
Specifications
Construction

Shock-resistant

Water Resistance

200 meters

Magnetic Resistance

ISO 764-compliant magnetic resistance

Radio Frequency

77.5 kHz (DCF77: Germany); 60 kHz (MSF: UK); 60 kHz (WWVB: USA); 40 kHz (JJY: Fukushima, Japan) / 60 kHz (JJY: Kyushu, Japan); 68.5 kHz (BPC: China)

Radio Wave Reception

Automatic reception up to six times per day (except for use in China: up to five times per day)

Communication Specifications

Communication Standard

Bluetooth ® low energy

Signal Range

Up to 2 meters (may differ depending on surrounding conditions)

World Time

27 cities (39 time zones,

*

daylight saving on/off) and Coordinated Universal Time; auto summer time (DST) switching; home time/world time switching

May be updated when connected to a smartphone.

Stopwatch

1 second; measuring capacity: 23:59'59; measuring mode: elapsed time

Countdown Timer

Measuring unit: 1 second (maximum 24 hours)

Other Functions

Mobile Link function (world time: over 300 cities, auto time adjustment, easy watch setting); automatic hand position correction; battery level indicator; day and date display; full auto-calendar; LED light (Super Illuminator with afterglow); daily alarm

Power Source

Tough Solar power system (solar-charging system)

Continuous Operation

About 18 months with the power-saving function

*

ON after full charge

Power-saving after a certain period in a dark location

Size of Case

54.7 × 49.8 × 16.9 mm

Total Weight

Approx. 150g
The Bluetooth ® word mark and logos are registered trademarks owned by Bluetooth SIG, Inc. and any use of such marks by Casio Computer Co., Ltd. is under license.
---