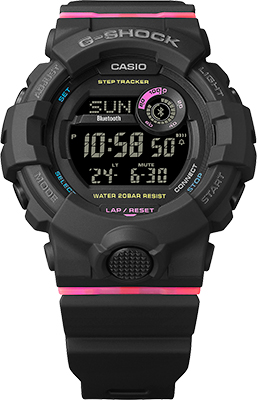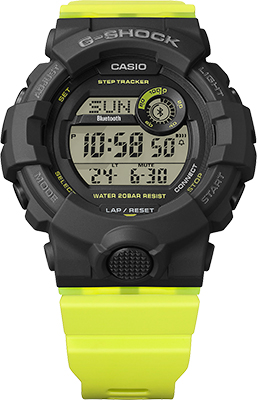 Tokyo, March 19, 2020 — Casio Computer Co., Ltd. announced today the release of the GMD-B800SC, a new compact digital model in the G-SQUAD lineup of watches for sports and fitness, which belong to the G-SHOCK brand of shock-resistant watches.
The new GMD-B800SC is a smaller version of the GBD-800, which is popular for its useful features for daily fitness and workouts and its variety of vividly colored designs. The downsized case width of the new watch offers an improved wrist-fit and makes it easy to wear not only for women with a taste for the G-SHOCK "menswear" style, but also for those who favor compactness.
The new GMD-B800SC, available in two models, comes in color schemes inspired by sportswear and shoes. The black model, with a touch of vivid neon pink for the indicator on the dial and the case back protector, while the model with a black case and a vivid neon yellow band delivers a style that goes well with sportswear.
Functions include a triple-axis accelerometer that automatically tracks step count as well as running or walking pace simply by wearing the watch on the wrist. The daily step count is displayed on the watch, and the user can check the indicator to see whether the day's step count goal was achieved. By pairing the watch to a smartphone via Bluetooth®, the user can display the daily step count and calories consumed using the G-SHOCK Connected app. This app also enables users to create workouts with five timers for interval training to promote their daily fitness.
Main Smartphone Link Features
■ Step Tracker
Displays step count and calories consumed. Includes collective display of activity history with calendar; daily, weekly, and monthly step count graphs for separate exercise intensity levels; and map display of step count and calories consumed for each area.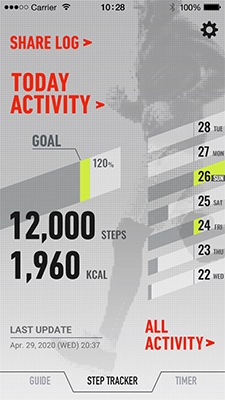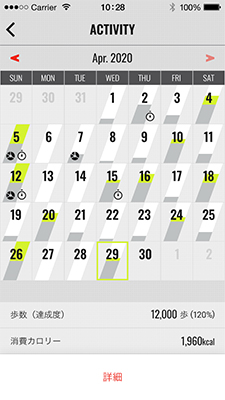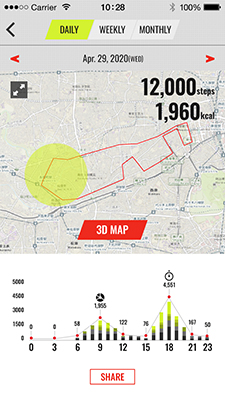 Application screens may differ from final specifications.
■ Timer
Configure up to 20 sets of five timers. Users can create workouts connected to timers for interval training.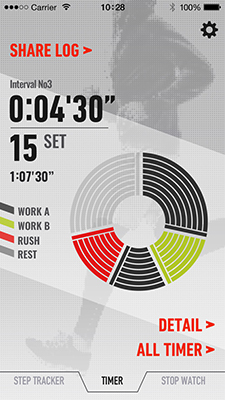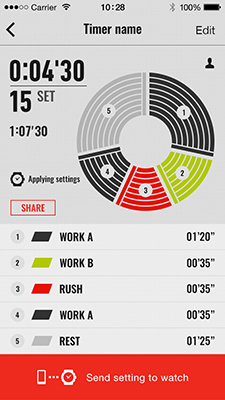 App screens may change with future releases.
■ Stopwatch measurement data is listed and the user can set target time.
■ Automatically corrects the home and world time, including adjusting for daylight savings, four times per day.
■ Easily set the dual time display choosing from among some 300 cities in the world from the app.
■ Phone Finder function enables a mobile phone alarm to be activated by pressing a watch button.
■ Easily set time, including alarms, adjusting hand positions, time swapping, and more.
Specifications
Construction

Shock-resistant

Water Resistance

200 meters

Communication Specifications

Communication Standard

Bluetooth ® low energy

Signal Range

Up to 2meters (may differ depending on surrounding conditions)

Step Counter

Step Count display (0 to 999,999), Step Goal Progress display (in 5-percentage-point increments / step count goal setting range: 1,000 to 50,000, 1,000-step increments), Step Count Graph (hourly step count for the past 11 hours on a 6-level graph), Step Indicator, power saving (auto sensor sleep-mode entry after fixed period of non-activity)

Stopwatch

1/100 second (up to 60 minutes) / 1 second (60 minutes or more); measuring capacity: 59'59"99 (for the first 60 minutes), 1:00'00–23:59'59 (after 60 minutes); measuring modes: elapsed time, lap times; lap/split time switching; 200 measurement data set recording (measurement start month, date, and lap/split times); target time alarm function (up to 10 alarms, measuring unit: 1 second, time setting range: 23 hours 59 minutes 59 seconds)

Countdown Timer

Interval measurement (up to 5 timers); measuring unit: 1 second; countdown range: 60 minutes; countdown start time setting range: 1 second to 60 minutes; auto repeat (up to 20 times); auto start; progress beeper

Alarm

5 daily alarms; hourly time signal

Other Features

Mobile Link functions (wireless linking using Bluetooth®), dual time (home time swapping); full auto-calendar, 12/24-hour format; button operation tone on/off; LED backlight (Super Illuminator, auto light; afterglow with selectable illumination duration: 1.5 or 3 seconds; hand shift feature

Accuracy at Normal Temperature

±15 seconds per month (without linking to a mobile phone)

Battery Life

Approx. 3 years on CR2025

Size of Case

50.7×45.2×15.5 mm

Total Weight

Approx. 52g
The Bluetooth ® word mark and logos are registered trademarks owned by Bluetooth SIG, Inc. and any use of such marks by Casio Computer Co., Ltd. is under license.
---