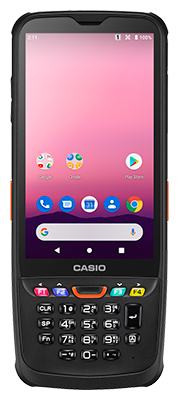 Tokyo, February 10, 2020 — Casio Computer Co., Ltd., announced today the release of two new Android™-equipped handheld terminals which can easily run business applications. As new flagship models, the IT-G600 and IT-G650 are equipped with a high-performance CPU and large-capacity memory for outstanding operability.
Both the IT-G600, with its numeric keypad, and the IT-G650, with its large 5.5-inch full touch display, are equipped with a CPU that is among the most powerful in the product category. They also feature a large-capacity memory providing four gigabytes of RAM, which is twice as large as that of the earlier model (IT-G400). This makes it easy to run various applications such as those used in the retail, manufacturing, and logistics industries.
Strong versatility of Android
Since the new models are equipped with Android 9, they can not only run business applications designed for that OS, but also provide access to various Google services such as Google Maps for finding a destination or Gmail for sending operation reports.
Outstanding usability to make work more efficient
Designed to be comfortably held and operated with one hand, the new models feature a scanner positioned at a 25-degree angle for easy barcode scanning and a capacitive touch panel that can be operated even with gloves on.
Full range of features for performing a variety of tasks
The new models are equipped with a C-MOS imager that can read QR and other two-dimensional codes as well as difficult-to-read barcodes. They also come with a 13-megapixel camera for recording and sharing detailed information from the work site. These features support a variety of tasks. The new handheld terminals even have a 13.56 MHz RFID reader/writer, which may be used not only for RF tag reading, but also for login security using employees' smart ID badges.
Tough performance for a wide range of workplaces
The IT-G600 is strong enough to withstand a drop from 1.8 meters, and both models can be used in temperature environments ranging from -20°C to 50°C. As they are also dustproof and water-resistant (IP67-compliant * ), the handheld terminals are ideal for a wide range of work conditions.
Dust cannot penetrate the unit. When temporarily submerged with a constant water pressure, water will not penetrate the unit.
Model

Display size

Wireless WAN

IT-G600-C21

4.7 inches

—

IT-G600-WC21

Yes

IT-G650-C21

5.5 inches

—

IT-G650-WC21

Yes
Specifications
Model

IT-G600-C21

IT-G600-WC21

IT-G650-C21

IT-G650-WC21

CPU

Qualcomm 2.2GHz (Octa Core)

OS

Android™ 9

Memory

RAM

4GB

FROM

64GB

Display

LCD

4.7-inch transmissive color TFT LCD (1280×720 pixels)

5.5-inch transmissive color TFT LCD (1440×720 pixels)

Touch Panel

Capacitive touch panel, multi-touch

Input Devices

Scanner

C-MOS imager

Camera

Approx.13 megapixels, Auto Focus, LED Flash

NFC

ISO14443 TypeA / TypeB / FeliCa ® / ISO15693

GPS

Built in: A-GPS

Voice

Speaker, Microphone, Receiver, Earphone/microphone jack

Wireless Communication

Bluetooth ®

v5.0, EDR/LE

Wireless LAN

IEEE802.11a/b/g/n/ac

Wireless WAN

—

GSM / W-CDMA / LTE nano SIM slot×1

—

GSM / W-CDMA / LTE nano SIM slot×1

Sensor

G-sensor, ambient light sensor, proximity sensor, gyrometer, compass (magnetic) sensor

Durability

Drop Durability

1.8m

1.5m

Dust/Water Resistance

IP67

Operating Temperature

-20°ºC - 50°C

Extensions

USB

USB2.0 high speed (Type-C) ×1

Card Slot

microSD×1

Power

Lithium-ion battery pack (3,000mAh)

Operating Period

Approx. 20 hours *

Approx. 18 hours *

External Dimensions (W×D×H)

Approx. 75×180×18mm

Approx. 78×180×18mm

Weight (including Battery Pack)

Approx. 300g

Approx. 310g
Under the following conditions:
Bar code read twice every 10 seconds and data received once, with wireless LAN module in power-saving mode, backlight on, using FTP communication protocol.
Android is the trademark or registered trademark of Google LLC.
The Bluetooth ® wordmark and logo are registered trademarks of Bluetooth SIG, Inc., and any use of these marks by Casio Computer Co., Ltd. is under license.
All other service and product names are trademarks or registered trademarks of their respective owners.
---