KL-G2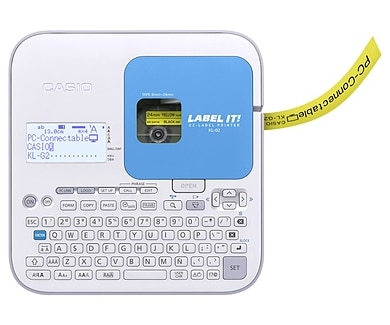 Highly efficient input, printing, and tape cutting
PC-connectable (via USB)
Printing speed of 20mm/sec
Auto cutter with half-cut function
PC-connectable (via USB)
Layout capabilities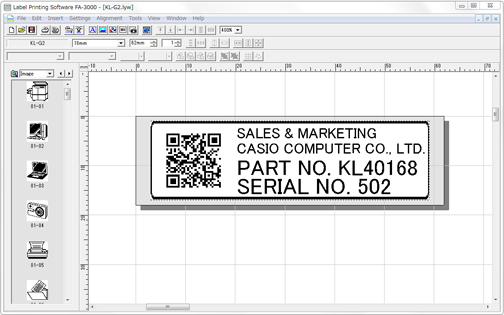 PC font printing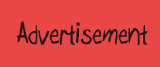 Multiple languages

PC software operating environment
OS

Microsoft ® Windows ® 10 / Windows ® 8 / Windows ® 7 / Windows Vista ®

PC

• At least 1 GB of memory (512 MB minimum for XP)
• USB port as standard equipment
• CD drive (for installation)
Printing speed of 20mm/sec (twice the previous speed)
Twice the printing speed of previous models with no loss of printing quality.
Increases work efficiency by reducing label production time!
* Compared to the CASIO KL-7400, when using the AC adaptor.
Auto cutter with half-cut function
A built-in auto cutter with half-cut function slits only the label for easy removal from the backing paper. This comes in handy when printing large numbers of labels or using the consecutive number printing function.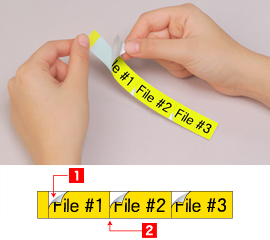 The backing paper is not cut.

Slit
Available tape widths

* Max. print height
Prints up to 8 lines (24 or 18mm tape).
The ability to print up to 8 lines means you can create labels with loads of information.

8-language message switching
English / Spanish / German / French / Italian / Portuguese / Swedish / Indonesian
Numbering
The consecutive number printing function comes in handy when you're producing large numbers of labels.
* Numbering from 0 to 99999
* You can print up to 100 numbered labels per print operation.

Barcode printing for your business
Prints barcodes for efficient merchandise control.

• GS1-128 (EAN-128) *
• CODE128 *
• GS1 Databar *
• QR Code *
• PDF417 *
• Data Matrix *
* Printing via PC connection only
• EAN-13/EAN-8/UPC-A/UPC-E
• ITF
• CODE39
• CODABAR (NW-7)
Large, easy-to-read 4-line, 16-digit backlit LCD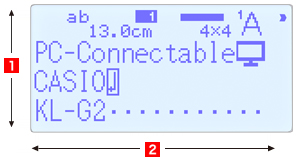 4 lines

16 digits
* Input area: 3 lines
8 installed fonts

Sans-serif

Sans-serif
Rounded

Roman

Courier

Pop

Slab Serif

Bordeaux
Heavy

Cursive
Illustrations and Symbols
60 Designed Logo printing
A selection of 60 complete built-in label designs combining frequently used words with illustrations.
* Available in 8 languages (English / Spanish / German / French / Italian / Swedish / Portuguese / Indonesian)
- PRICE labels (10) -



- SIGN labels (20) -



- WORK labels (10) -



- ATTENTION labels (20) -



Enlarged printing
Make large labels easily by printing labels and attaching them together to make the message stand out.
* 12mm or wider tape (top and bottom margin left if using 18 or 24mm tape)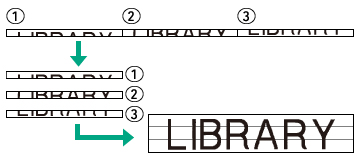 Index labels
Index labels make for easy-to-understand organisation of documents. The information you are looking for will be identifiable at a glance.
* 24mm tape only

Time stamp
Place time stamps on documents requiring management by date. The data can be input at the touch of a button.